Spain's Constitutional Court blocks Catalan independence motion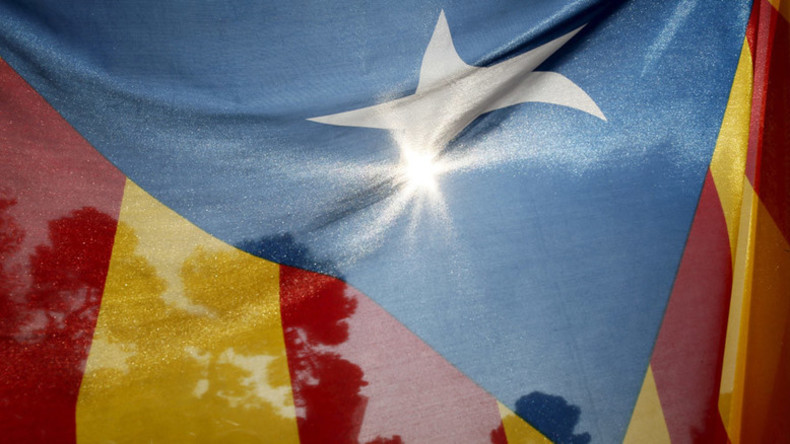 The Spanish Constitutional Court has ruled that the Catalan parliament's motion to start a secession process is unconstitutional. The decision comes just weeks before what could turn out to be the country's tightest general election in years.
In a record fast decision, the Spanish court stated on Wednesday that the Catalan resolution "ignores and infringes" on principles laid out in the country's constitution. All 11 judges unanimously ruled that the legislation violates five articles of the constitution and two articles from Catalonia's statute.
READ MORE: Spain's court suspends Catalan declaration to launch independence process
"The principle of democracy cannot be considered to be separate from the unconditional primacy of the constitution," the court commented on its decision.
The court announced its decision just three weeks after the central government filed the appeal.
The Catalan motion was passed by pro-independence MPs in the regional parliament in early November, with plans to establish autonomous rule by 2017. The legislation was supposed to start the secession process for the northeastern region. It promised a "disconnection from the Spanish state" to create a Catalan republic.
In an almost immediate response, the central Spanish government suspended the Catalan legislation and waited for the court's decision.
READ MORE: Catalonia's parliament backs declaration to split from Spain
The court's ruling made no reference to bringing criminal charges against Catalan MPs for passing such a motion, has had been previously threatened.
Spain's conservative prime minister, Mariano Rajoy, spoke out in support of the decision. "This makes the majority of Spaniards who believe in Spain, in national sovereignty, and in the equality of all very happy," Rajoy said. "With this decision, the court demonstrated that all Spaniards are equal before the law and nobody is above anyone else," he said.
The court's ruling comes just weeks before a Spanish general election is to be held on December 20, which is said could be the country's tightest in years.
READ MORE: UN chief says Catalonia call for independence from Spain is illegitimate
Despite the Spanish court's decision, the acting Catalan government said their actions will not be deterred. "We will continue with the political will of the declaration approved by an absolute majority in our legally elected parliament," vice-president of the Catalan government, Neus Munté, said. "The political will expressed by the parliament won't stop."
Even though Catalonia is home to only 16 percent of Spain's population, it remains its wealthiest region, producing 20 percent of its GDP. Many Catalonians believe that the rest of Spain is an economic "burden" on them. The recent economic crisis has also contributed to intensifying the region's longstanding bid for independence.
LISTEN MORE: