Catalonia's parliament backs declaration to split from Spain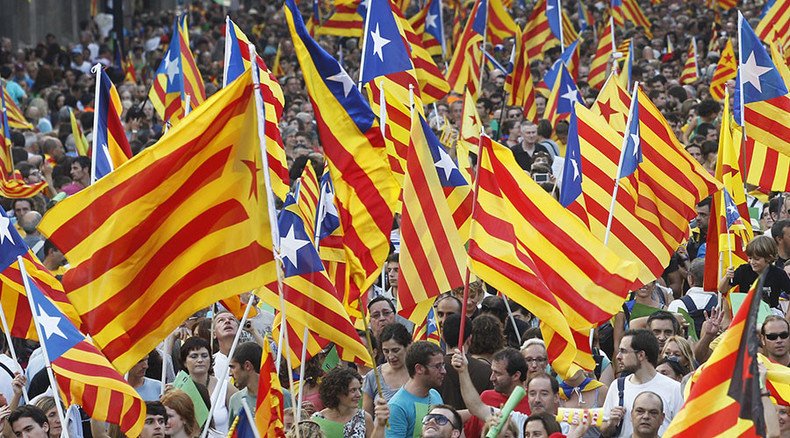 Catalonia's regional parliament has backed a declaration on Monday to start a formal secession process from Spain. The region plans to establish autonomous rule by 2017.
The declaration on secession, which launches a so-called roadmap towards independence, was backed by a majority in the regional parliament. The motion was passed by 72 votes to 63, AP reported.
"There is a growing cry for Catalonia to not merely be a country, but to be a state with everything that entails," Raul Romeva, head of Together for Yes, said ahead of the session. "Today we don't only open a new parliament, this marks a before and after."
The vote was proposed by Catalan pro-independence parties, which won the local parliamentary election in September this year. They hope it will lead to the northeastern region seceding from Spain within 18 months.
READ MORE: UN chief says Catalonia call for independence from Spain is illegitimate
The parties voted on a resolution which calls for legislation within 30 days to start a social security and treasury system separate from Spain. The resolution is backed by Catalan Junts pel Si (Together for Yes) and Popular Unity Candidacy (CUP) parties.
The resolution, submitted by Catalan pro-independence parties back in October, states that the "democratic mandate based on the result of the elections held on September 27, is aimed at creation of independent and sovereign Catalan state…"
READ MORE: Resolution to start secession process submitted to Catalan parliament
It also declares the beginning of the state creation process and calls for an "open, inclusive and active constituent civil process aimed at building a foundation for the future Catalan constitution."
Reacting to the successful adoption of the declaration on Catalonia's secession, Spanish Prime Minister Mariano Rajoy said in a national TV address that his government will contest this decision at the Constitutional Court.
"Catalonia is not going anywhere, nothing is going to break," he commented on the situation, as quoted by AP.
Rajoy added that he will discuss the issue with the leader of the main opposition Socialist Party, Pedro Sanchez, in order to create a unified front against the secessionists.
Earlier, Rajoy has repeatedly said independence referendums as well as other secessionist steps are unconstitutional and therefore are illegal.
"The state may use any available judicial and political mechanism contained in the constitution and in the laws to defend the sovereignty of the Spanish people and of the general interest of Spain," he said at that time. "Those who want to divide and split Catalonia from Spain must know that they will not succeed."
Despite being home to only 16 percent of Spain's population, Catalonia remains its wealthiest region, producing 20 percent of national GDP. Many Catalonians consider the rest of Spain as an economic burden on them. The longstanding independence drive has intensified in recent years due to the economic crisis.
LISTEN MORE:
You can share this story on social media: