UN chief says Catalonia call for independence from Spain is illegitimate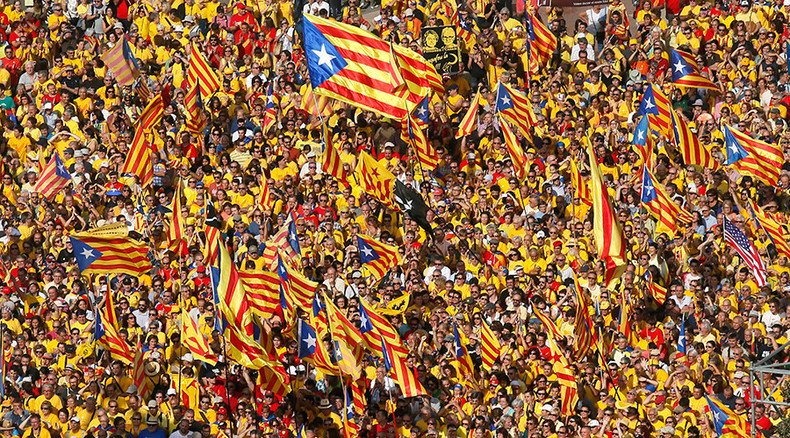 Catalonia's push for independence from Spain is illegitimate, as the region has not been recognized by the United Nations as a non-autonomous territory, UN Secretary-General Ban Ki-moon told Spanish media.
"When one speaks of self-determination, certain areas have been recognized by the United Nations as non-autonomous territories. But Catalonia does not fall into this category," Ban said in an interview with Spanish newspapers El Pais, El Mundo, ABC and La Vanguardia.
Since the beginning of decolonization after World War II, the UN has considered "non-autonomous" those territories that are geographically separate and distinct ethnically and culturally from the country, which is administrating them.
The pro-independence parties, which won the local parliamentary election in September, say Catalonia has the right for self-determination due to having its own language and distinct culture.
The UN chief praised the Spanish central authorities in Madrid for their "respect for diversity: the culture, the languages, the traditions."
"Spain is an independent and sovereign country that includes the Catalan region. It is in this way that it was admitted to the UN and acts within the international community," he said.
Ban expressed hope there would be "a consensual solution" for the differences between Barcelona and Madrid, "based on dialogue and conforming to the democratic tradition."

"I ask leaders and the Catalan people to engage in the dialogue" with the Spanish authorities, he said.
READ MORE: Resolution to start secession process submitted to Catalan parliament
Catalonian Junts pel Si ("Together for Yes") and Popular Unity Candidacy (CUP) are looking to pass a resolution in the local parliament next week to start the region's formal secession from Spain, with the aim of establishing autonomy within 18 months.
On Friday, Spanish Prime Minister Mariano Rajoy said the country's main political parties would join forces to defend national unity against the independence push.
"We are all in agreement on the unity of Spain, we all agree on national sovereignty, we are all in agreement that laws must be respected, we are all in agreement that all Spaniards are equal," Rajoy is cited by AFP.
A poll by El Pais paper revealed a slip in support for independence inside Catalonia, with 41 percent speaking in favor of secession compared to 45 percent before September's regional vote.
READ MORE: Madrid says it will not discuss Spain's unity after Catalan separatists claim victory
Despite only containing 16 percent of Spain's population, Catalonia remains the country's wealthiest region, producing 20 percent of its GDP. Many Catalonians consider the rest of Spain is an economic burden on them.
The longstanding independence drive has intensified in recent years due to the economic crisis.
LISTEN MORE:
You can share this story on social media: