Resolution to start secession process submitted to Catalan parliament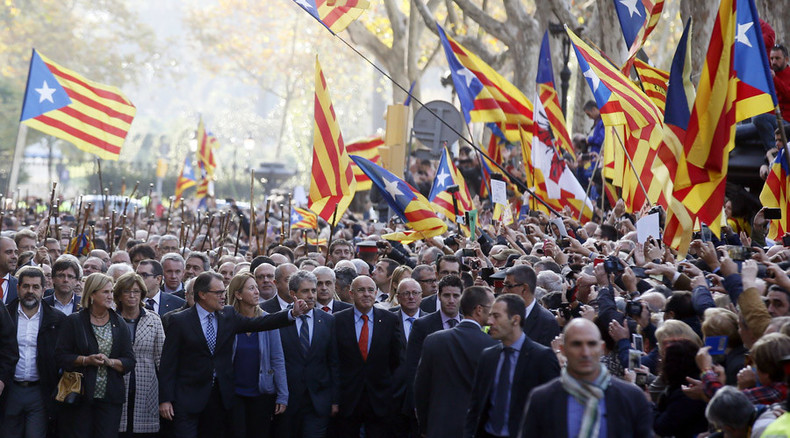 Catalan pro-independence parties have submitted a resolution to the regional parliament proposing that Catalonia splits from Spain. Spanish Prime Minister Mariano Rajoy has said that he would block any independence initiatives.
The Junts pel Si ("Together for Yes") and Popular Unity Candidacy (CUP) hope that the nine point resolution will be adopted in early November, according to El Pais.
The "democratic mandate based on the result of the elections held on September 27, is aimed at creation of independent and sovereign Catalan state…," the first article reads according to Reuters.
The second article declares the beginning of the state creation process while the third one initiates an "open, inclusive and active constituent civil process aimed at building a foundation for the future Catalan constitution."
The document calls on the future government to take all necessary measures for the effective implementation of the resolution which could go as far as to directly disobey decisions made by the Spanish central government and the constitutional court which, according to the new Catalan parliamentary president, Carme Forcadell, has been delegitimized.
Junts pel Si and CUP expressed a will to launch negotiations with Spanish authorities concerning the creation a Catalan republic.
Spanish Prime Minister Mariano Rajoy insists that independence referendums as well as other secessionist steps contradict the Spanish constitution and therefore are illegal.
"The state may use any available judicial and political mechanism contained in the constitution and in the laws to defend the sovereignty of the Spanish people and of the general interest of Spain," Rajoy said in a short TV statement.
"Those who want to divide and split Catalonia from Spain must know that they will not succeed," he added.
Despite only containing 16 percent of the country's population, Catalonia is one of Spain's richest regions, and produces 20 percent of its GDP which makes its population think that the rest of Spain is an economic burden on them. On September, 27, a coalition of secessionist parties won the Catalan parliamentary elections which were accompanied by mass pro-independence rallies.
LISTEN MORE: