Dozens of arrests in French anti-terror raids after Paris massacre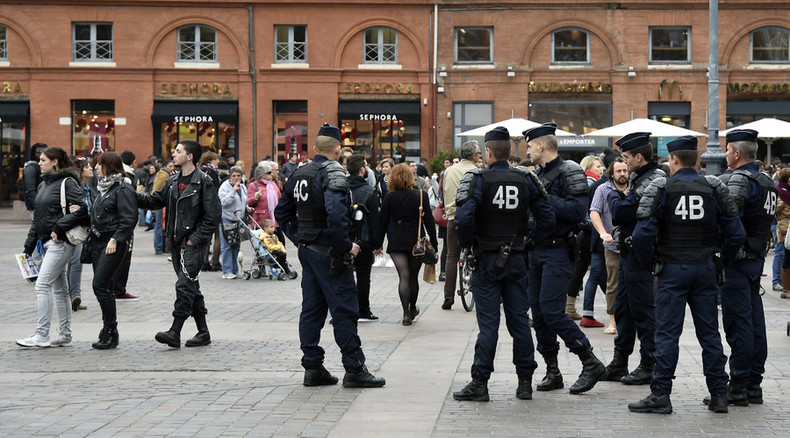 Anti-terrorist raids are currently underway across France, authorities said. The operations come following Friday's co-ordinated attacks by jihadists in Paris that killed more than 120 people and left hundreds injured.
READ MORE: Terrorism threat stays, terrorists may strike France again - French PM
The operations to track down suspected Islamists were confirmed by France's Prime Minister Manuel Valls on Monday, as cited by RTL radio.
Raids are ongoing in the city of Toulouse in the South of France. At least 200 armed personnel mostly from GIPN (French National Police Intervention Groups) and RAID (Research, Assistance, Intervention, Deterrence unit) are deployed in the city, according to La Depeche newspaper.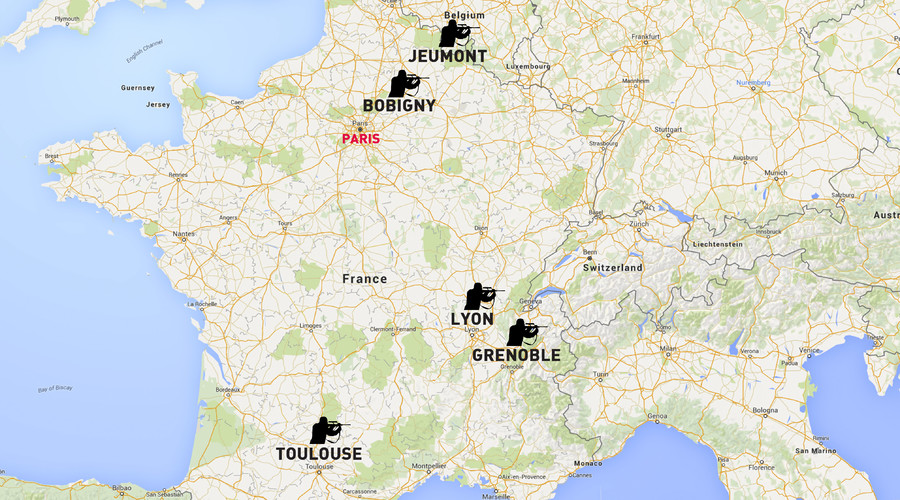 Social media have been flooded by photos of dozens of armed officers apparently detaining suspects and numerous police vehicles driving in the city.
The raids in the city of Lyon in east-central France have resulted in at least five arrested and seizure of weapons, including rocket-propelled grenades, French BFMTV reported.
iTELE said that at least three people were in custody after raids carried out in Toulouse on Sunday. The channel later reported the raids are not directly linked to the Paris attacks, but concern individuals who have been "subjected to radicalization."
READ MORE: 5,000 soldiers patrol Paris as France adapts to 'militarized' threat at home & abroad (VIDEO)
Police and anti-terror raids were reported in France's southeastern city of Grenoble, according to Le Dauphine newspaper. At least 15 locations were searched by police in the city and the suburbs of Echirolles, Fountain and Saint-Martin-d'Hères.
The operation started around 01:00 local time, mainly in the Teisseire and Mistral neighborhoods in Grenoble. Police reportedly made several arrests, seizing weapons and money. RTL radio reported that seven or eight people were arrested following the raids.
Around 20 security forces vehicles were involved in raids in the small town of Jeumont near the French border with Belgium, around Docteur Laennec Street, where a building was searched, the L'Observateur la Sambre publication said.
The Parisian suburb of Bobigny was also raided overnight, with several homes searched, according to French press.
READ MORE: International manhunt underway for suspect involved in Paris attacks
The raids come amid an international manhunt for a 26-year-old French national suspected of being "directly involved" in the attacks. On Sunday, French and Belgian authorities released a photo and issued an international arrest warrant for 26-year-old Salah Abdeslam, saying the man is very dangerous and warned the public not to directly intervene if they see him.
Salah was reportedly stopped by police in a Volkswagen Polo with two others men shortly after the attacks. The officers apparently let him go after checking his ID. Since then, the suspect has been on the run.
READ MORE: 5 Paris terrorists identified, one by shot-off finger
One of Salah's brothers, Ibrahim, has been identified as the perpetrator of one of the suicide attacks on Friday night.
French authorities have so far identified five terrorists out of seven killed while staging attacks in Paris on Friday. Their relatives have been detained and are being questioned.
The investigation said that up to 20 perpetrators might have been behind the deadly assaults in France's capital.
On Friday evening, eight armed terrorists, many of them rigged with explosives, staged attacks in several locations in Paris, killing at least 129 people and wounding 352.
You can share this story on social media: