5,000 soldiers patrol Paris as France adapts to 'militarized' threat at home & abroad (VIDEO)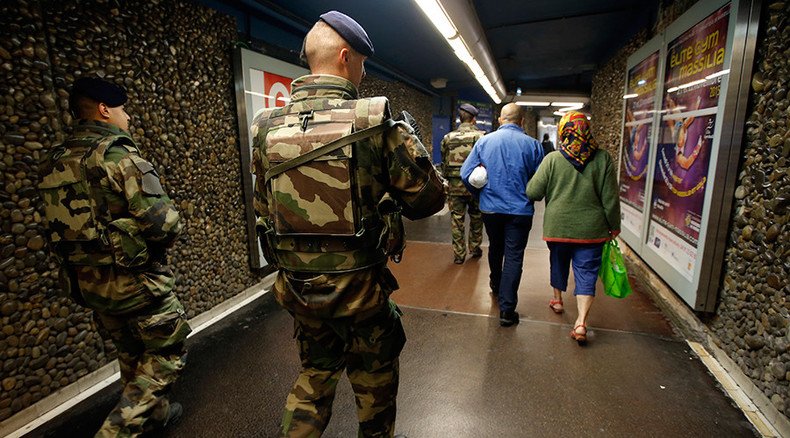 In response to the deadly Paris attacks, the French military has deployed a further 1,000 troops to ensure safety on the capital's streets. The military deployment comes amid French Defense Ministry's promises to revise national security strategy.
Parisians have become accustomed to living alongside soldiers in their city since the launch of Operation Sentinelle in the wake of the Charlie Hebdo attacks in January, which killed 17 people.
LIVE UPDATES: French police hunting suspect involved in Paris attacks
However, following the Friday 13 massacre that killed 129 people, the French military boosted its presence in the capital with 1,000 additional troops who were deployed within 48 hours of the coordinated terror acts.
A total of 5,000 soldiers are currently patrolling Paris and its suburbs, with additional reinforcements due to arrive by Wednesday.
The military are and will be deployed throughout the city, as a state of emergency, declared by President Francois Hollande on Friday night, continues across France. Following the attacks, the French leader ordered an additional deployment of 1,500 military officers in Paris.
"On the national territory, as in external operations, the French army is engaged in the fight against Daesh [Islamic State]. All measures are taken to protect our citizens against terrorist groups. The Sentinelle operation is strengthened by additional staff since November 14, from all over France," the Ministry of Defense said.
France is now looking to revise its national security strategy to better respond to terror attacks by using its armed forces at home.
READ MORE: French jets drop 20 bombs in massive anti-ISIS raid in Syria
"The scale of the threat has changed. It has militarized and our defence strategy must be adapted to that. This is a considerable challenge and France will meet it," Xinhua quoted French Defense Minister, Jean-Yves Le Drian as telling local weekly Le Journal de Dimanche.
"After the launch of the Sentinel operation, it became necessary to define a new strategy on the use of the country's armed forces," he said. "Daesh [Islamic State] is a real terrorist army and we must fight relentlessly everywhere," Le Drian said.
On Sunday, the French Prime Minister Manuel Valls pledged to deploy 10,000 soldiers throughout France, to supplement the 7,000 troops, which have already been deployed since the January Charlie Hebdo attacks.
Meanwhile, the French forces have intensified their anti-Islamic State efforts in Syria by launching the biggest air raid to date targeting terrorist positions in Raqqa.
You can share this story on social media: