French jets drop 20 bombs in massive anti-ISIS raid in Syria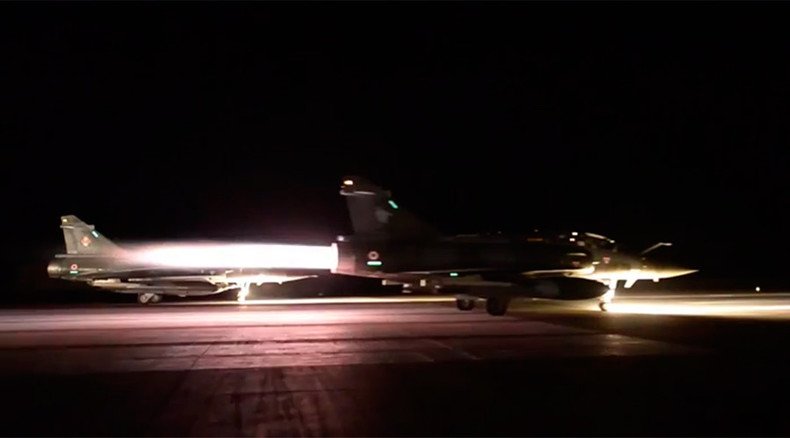 France has carried out a massive airstrike on an Islamic State stronghold in Raqqa, Syria. It struck dozen's of targets including a command and control center, training camp and munitions warehouse, the country's defense ministry announced.
LIVE UPDATES: Investigation widens as world mourns with France
Twelve French aircraft, including 10 fighter jets, took part in the country's biggest air raid in Syria, the statement from the defense ministry read.
The strike, coordinated with the United States, was carried out simultaneously from Jordan and the United Arab Emirates.
"The first target destroyed was used by Daesh (a derogatory Arabic acronym for IS) as a command post, jihadist recruitment center and arms and munitions depot. The second held a terrorist training camp," a ministry statement said, adding that in total some 20 bombs were dropped in the raid.
France had the "legitimacy" to conduct airstrikes in Raqqa against Islamic State, the French foreign minister Laurent Fabius said on the sidelines of the G20 summit in Turkey.
The air raid was a "political" decision, he said which shows that France is "present and active" following Friday's attacks.
The air raid on the terrorist positions comes on the heels of series of horrific attacks in the French capital, which claimed at least 129 lives and injured hundreds more on Friday. Islamic State has claimed responsibility for the barbaric attacks in Paris, while the French government has vowed to battle the terrorist group mercilessly.
Following the wave of terror in Paris, US intelligence services have expanded their data sharing with France and have begun providing "targeting packages" on Islamic State position, the Wall Street Journal reported earlier on Sunday.
The allies have agreed on "concrete steps the US and French militaries should take to further intensify our close cooperation in prosecuting a sustained campaign" against IS, Pentagon press secretary Peter Cook said in a statement, following a phone call between US Secretary of Defense Ash Carter and the French Minister of Defense Jean-Yves Le Drian.
You can share this story on social media: