5 Paris terrorists identified, one by shot-off finger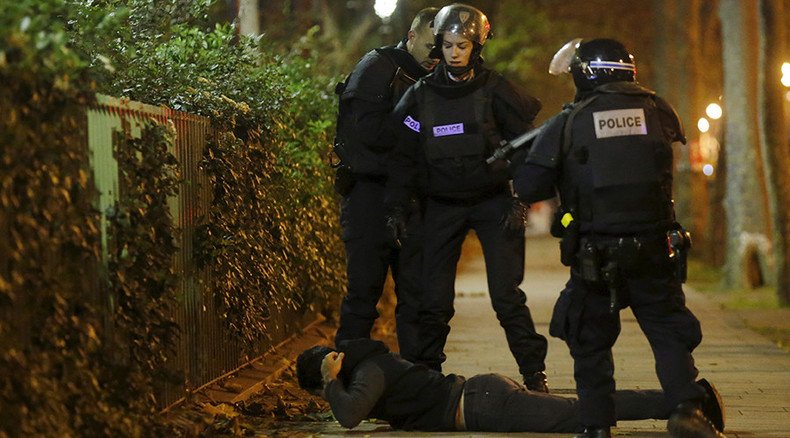 French authorities have identified five terrorists out of seven killed while staging attacks in Paris on Friday. Their relatives have been detained and are being questioned. Unofficial reports suggest one of the attackers was just 15 years old.
Among the identified terrorists who blew themselves up is a French citizen, Omar Ismail Mostefai (born November 21, 1985). He was raised in Courcouronnes, a poor neighborhood of Paris.
Mostefai had a criminal record of petty crimes, having been convicted eight times between 2004 and 2010, but never serving jail time.
Although Mostefai was put on a list of people with a high-risk of radicalization in 2010, he was "never implicated in an investigation or a terrorist association," AFP cited Paris prosecutor Francois Molins as saying.
Arnauld Froissart, Mostefai's former neighbor in the Chartres neighborhood of Madeleine, described the accused terrorist as a "kind" and "discreet" man who wore a djellaba, a traditional Moroccan garment.
"I know him by sight. My sister-in-law, who lives near [his house], was taking care of [my] children. I brought [my] children to her and I saw him dozens, dozens, dozens of times," Froissart told the Wall Street Journal. "And no problems, he said hello, he was very big... He was very kind, his family lived here too. His mother was very kind, she offered us cakes for Ramadan."
"Everyone was shocked when we learned this last night and this morning. In the neighborhood of Madeleine, you have other people who have much more serious problems," Froissart continued. "But him, as we say, 'If you want to be discreet, you should not make noise'. So he was very, very, very discreet."
Police are now trying to find out whether Mostefai traveled to Syria last year. The terrorist's older 34-year-old brother turned himself in to the police when he learned what his relative had done. His father and four other relatives have been detained and their apartments searched.
The family of four sons and two daughters never suspected that one of them, although known for being involved in petty crimes, had become a terrorist.
"It's a crazy thing… it's madness," Mostefai's brother muttered in a trembling voice while being taken into custody, AFP reported. "Yesterday I was in Paris and I saw how this sh*t went down," the man said, adding that their mother "didn't seem to know anything."
Mostefai used to regularly attend the mosque in Luce in southwest Paris, a source close to the inquiry informed AFP.
Another two identified terrorists are both believed to be Syrian nationals, who entered Europe through Greece several months ago. They are 25-year-old Ahmed Almuhamed, the Serbian newspaper Blic reported, while Le Figaro disclosed Abbdulakbak B, who was born in 1990.
Le Figaro cited unofficial medical sources, saying that among the dead terrorists there were two boys aged 15 and 18.
On Sunday evening, French authorities identified two more of the terrorists killed during the attacks as a 20-year-old and a 31-year-old, Reuters reported. Both men were French nationals living in Belgium. One suicide bomber was killed at the Stade de France, the other at the bar in the 11th district.
"Two more terrorists killed in the night of Nov. 13 were today formally identified through finger prints," the prosecutor said in a statement without revealing their names.
French authorities also announced they are seeking Abdeslam Salah, a Belgian-born French citizen, in connection with the attack, describing him "dangerous."
On Friday evening, eight armed terrorists, many of them rigged with explosives, staged attacks in three locations in Paris, killing 129 people and wounding 352, of whom 99 remain in critical condition.
You can share this story on social media: