Sacramento's homeless invited to attend $35K treat after fiancé calls off wedding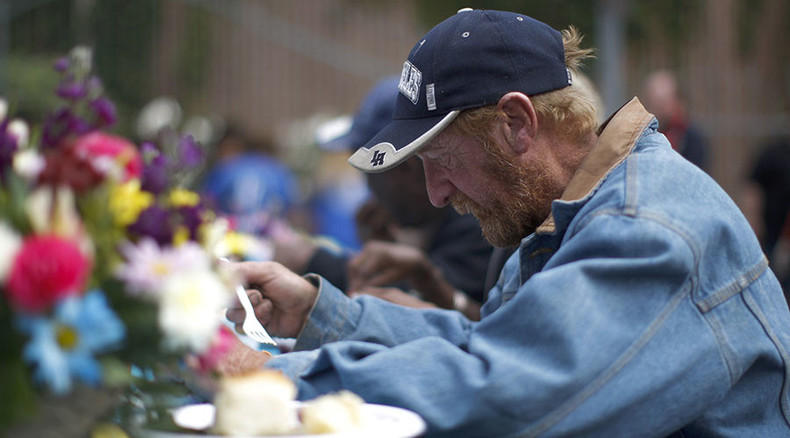 After one California groom-to-be cancelled his $35,000 wedding at the last minute, the bride-to-be's family decided not to surrender to despair and turn the already paid-for banquet into a dream come true for some unlikely guests – Sacramento's homeless.
The bride's mother, Kari Duane, said she couldn't believe her ears when her 27-year-old daughter Quinn called her to say that the wedding just wasn't going to happen because her fiancé had called it off.
But the deposits for the reception were already paid, and instead of calling it off, the local homeless were invited for a weekend meal at one of the city's finest venues, the Citizen Hotel. An elderly woman who lives in a shelter, unable to afford rent, was the first to arrive, half an hour early.
"I was thinking at that moment, if she's the only person that comes tonight, this was worth it," the bride's mother told KCRA-TV.
But then more homeless people started to turn in – individuals, as well as families with grandparents and even newborns.
"When you're going through a hard time and a struggle for you to get out to do something different and with your family, it was really a blessing," Rashad Abdullah, who arrived with his spouse and their five children, told the broadcaster.
READ MORE: Hawaii declares state of emergency over homeless problem
"To lose out on something so important to yourself and then give it to someone else is really giving, really kind," his wife, Erika Craycraft, added.
The food was the same as that normally offered at the hotel's four-star restaurant. There was enough for everybody as 120 guests had been invited before the wedding was canceled.
Aside from the appetizers, salmon and steaks were served.
"This is not coming out of our kitchen. We love our chef Leo, but he wouldn't be preparing nothing like this," one homeless mother, Tamara, said.
The bride-to-be meanwhile chose to stay home, comforted by her friends. Since part of the wedding price tag also included a nonrefundable honeymoon, the mother and daughter later headed to Belize to spend the vacation.