New clashes between Israeli police and Palestinians outside Al-Aqsa mosque – report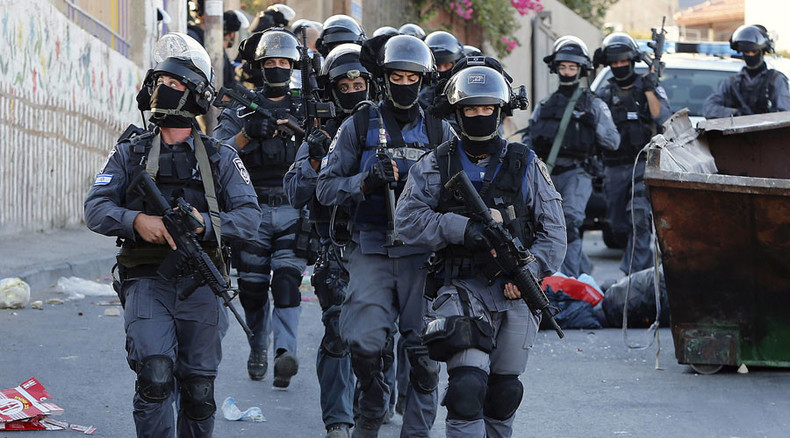 Clashes between Israeli police and Palestinians at Jerusalem's Al-Aqsa mosque compound have entered their second day, according to reports.
Witnesses at the scene told Al Jazeera that Israeli police used stun grenades and fire crackers as they entered the mosque shortly before 7 am local time (0400 GMT) on Monday.
According to reports, the situation there is tense, as far-right Jewish groups prepare to enter the mosque compound where worshippers had barricaded themselves in.
#BREAKING New clashes have broken out between Israeli police and Palestinians at Jerusalem's flashpoint Al-Aqsa mosque compound

— Agence France-Presse (@AFP) September 28, 2015
Al Jazeera's reporter said there were a few Israeli soldiers were noticed on the roof of the mosque.
Violent clashes broke out on Sunday, which was the first day of the week-long Jewish Sukkot holiday that draws many Jews to Jerusalem.
Al-Asqa is the third holiest site in Islam and is also revered by Jews as the Temple Mount. It is considered the most sacred place in Judaism.
The tensions have been running high, as the rule connected with the mosque is that Jews and people of other religions can enter Al-Aqsa between 7:30 a.m. and 11:30 a.m. local time, but they may not pray there.
However, Palestinians said that far-right Jews who entered the mosque on Sunday started to pray, breaching the 50-year-old agreement.
READ MORE: Clashes erupt at Jerusalem's Al-Aqsa mosque compound between worshippers and security forces
LISTEN MORE: