Clashes erupt at Jerusalem's Al-Aqsa mosque compound between worshippers and security forces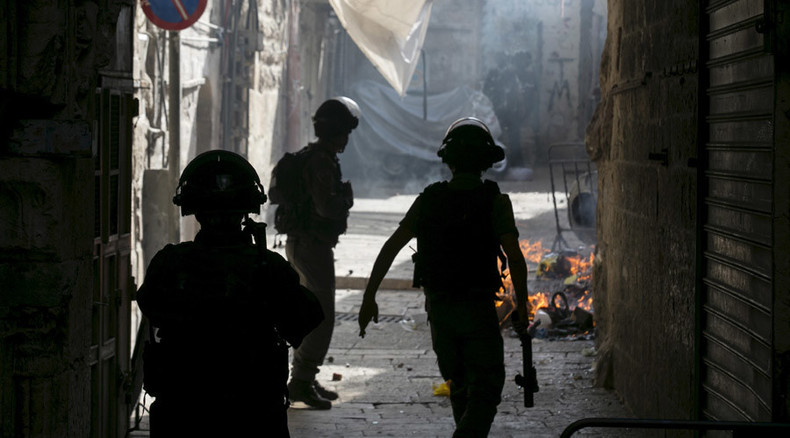 Clashes have broken out at the Al-Aqsa mosque in Jerusalem between Israeli security forces and Palestinians. Eyewitnesses said that the trouble flared after soldiers entered the compound.
Police have used stun grenades and rubber bullets against the Palestinians, with an Al Jazeera correspondent at the scene reporting: "It doesn't appear as if the clashes went far beyond the gate where police entered, nor are there reports of any injuries."
The security forces entered the holy site after "masked youths hurled stones and fireworks at police," Israeli police said.
The clashes come at a sensitive time - at the end of the Muslim Eid al-Adha holiday and the beginning of the Jewish Succot festival.
Al-Asqa is the third holiest site in Islam, and is also revered by Jews as the Temple Mount and is considered the most sacred place in Judaism.
Israeli Defense Minister Moshe Yaalon stated that there would be no age restrictions on Muslims allowed to visit Al-Asqa, while he added that Jewish visitors would be barred from visiting the site in order to avoid any tensions between the two groups, the Times of Israel reported.
However, Palestinians became agitated after Israeli police tried to give Jewish activists the opportunity to tour the grounds of the compound. They feared that Israel maybe trying to reign in on the pledge by Yaalon not to allow Jews to visit the mosque on Sunday.
On September 18, several people were injured in Jerusalem as Palestinians staged a 'Day of Rage' to protest new Israeli security measures. This followed several days of rioting at the Al-Aqsa mosque, which culminated in an Israeli security operation using grenades and tear gas against Palestinian protesters.
Palestinian leader Mahmood Abbas "strongly condemned the aggression…" by "troops and occupational police," his office said in a statement.
Temple Mount, as it is known according to Jewish tradition, frequently sees radical Palestinian worshipers trying to repel Jews who visit the holy site for prayers and religious celebrations on specially prescribed days.
Palestinians have accused Israeli Prime Minister Benjamin Netanyahu of supporting claims by Jewish ultranationalists seeking access to the site.
The Palestinian Murabitat and the Murabitun "sentinel" groups, comprised of female and male Muslims, respectively, closely monitor Jews who are allowed, under police guard, to visit the holy site for five days of the week. The Israeli government accuses them of hurling abuse at Jewish worshipers and throwing rocks.
Israel considers the two groups the main cause of tension at the site, and has outlawed them on security grounds.
East Jerusalem, where the compound is located, was seized by Israel in 1967 during the Six-Day War. The international community has never recognized the area's annexation by the Israelis.