Egypt sentences Al Jazeera journalists to 3 years in prison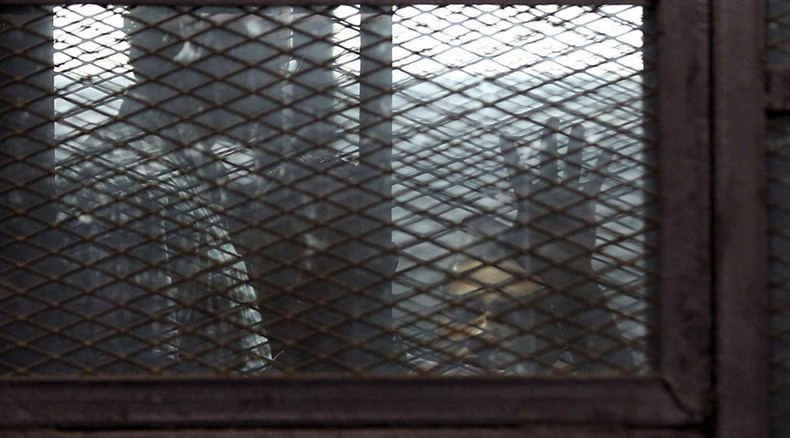 In a re-trial of three Al Jazeera journalists, all have been found guilty and handed 3-year sentences by an Egyptian court for operating without a license and broadcasting material 'harmful' to the country. This has led to the country being condemned for its handling of the case once again.
The three on trial were Canadian Mohamed Fahmy, Egyptian Baher Mohammed and Australian Peter Greste, who was deported in February. Fahmy and Mohammed have been on bail in Egypt since February, but were taken back into custody on August 29 for the verdict.
Shocked. Outraged. Angry. Upset. None of them convey how I feel right now. 3 yr sentences for @bahrooz, @MFFahmy11 and me is so wrong.

— Peter Greste (@PeterGreste) August 29, 2015
According to Egyptian state news agency MENA, Mohammed will receive an extra six months for being found in possession of a "bullet." This has left international observers puzzled, for when the three journalists initially received prison sentences in 2014, ranging from seven to 10 years, there was talk of a spent bullet casing. The wording has now been changed to "bullet."

READ MORE: Egypt court sentences Al Jazeera journalists to 10 & 7 years in prison
Greste, Fahmy and Mohammed were arrested in December 2013 in a raid on the Cairo hotel room they were using as an office. The journalists were then accused of supporting Morsi's Muslim Brotherhood, which state officials have declared a terrorist organization, and of fabricating "lies" to give the impression the country was facing civil war. They denied all the charges.
The trials of the three men have drawn massive international criticism of Egypt, with calls from world leaders, human rights groups and other media outlets to release the journalists.
Following Saturday's sentencing, Fahmy's lawyer, Amal Clooney, said the defense would appeal the verdict.
"We are now going to be holding a series of meetings with government officials where we will be asking for Mr. Fahmy's immediate deportation to Canada," Reuters reported her as saying. "His colleague Peter Greste was sent back to Australia; there is no reason why the same thing shouldn't happen in Mr. Fahmy's case."
Just spoke to Amal Clooney who told me "what just happened here is an outrage" "independent court would have acquitted them fully" #AJTrial

— Bel Trew - بل ترو (@Beltrew) August 29, 2015
Canada has called for Fahmy's "full and immediate release."
Al Jazeera English's acting general director said the verdict "defies logic and common sense."
READ MORE: Al Jazeera journalist freed in Egypt, heads to Australia

But Judge Hassan Farid remained adamant that the three "are not journalists," that they were operating out of the Marriott Hotel without licensed press equipment, and working to subvert the government.
As the new verdicts were read out in court on Saturday, the Al Jazeera journalists again denied any wrongdoing. The channel believes their arrests and sentencing are part of a wider agenda of cracking down on free speech in Egypt.