Egypt court sentences Al Jazeera journalists to 10 & 7 years in prison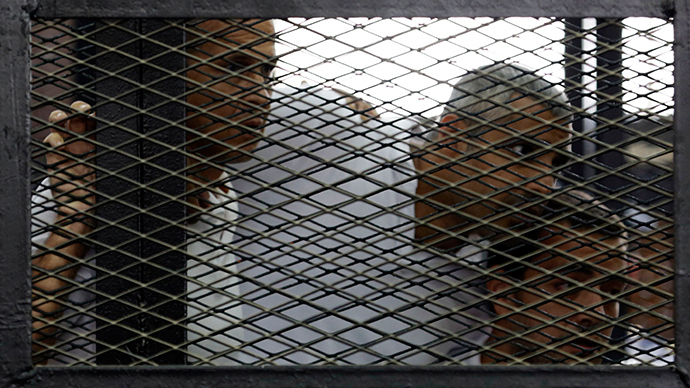 ​An Egyptian judge on Monday sentenced three Al Jazeera journalists to long prison terms, one to 10 years and two to seven years, after finding them guilty on charges that included helping the Muslim Brotherhood by publishing false information.
Judge Mohamed Nagui Shehata sentenced Mohammed Fahmy, Canadian-Egyptian acting bureau chief of Al Jazeera, Australian correspondent Peter Greste, and Egyptian producer Baher Mohamed to seven years for supporting a "terrorist organization." Mohamed also received an extra three years in prison on separate charges.
Greste, Fahmy and Mohammed were arrested in December in a raid on the Cairo hotel room they were using as an office, as part of a crackdown on Islamist supporters of ousted President Mohamed Morsi.
Since the army ousted Morsi in July 2013, the Egyptian authorities have been enraged by the Qatari network's coverage of their crackdown on his followers.
The journalists were accused of supporting Morsi's Muslim Brotherhood, which state officials have declared a "terrorist organization." They also face charges of fabricating "lies" to give the impression the country was facing civil war.
United Nations human rights chief Navi Pillay labeled death penalty convictions and mass trials "obscene and a complete travesty of justice" on Monday.
In a statement cited by Reuters, Pillay sayid the reporters should be released, and she accused Egypt of "crushing" the media.
Britain announced on Monday it was summoning the Egyptian ambassador to protest over what it called the "appalling" sentencing of the journalists.
#BREAKING: Britain summons Egyptian ambassador over Al-Jazeera journalists verdicts

— Agence France-Presse (@AFP) June 23, 2014
"I am appalled by the guilty verdicts handed down today against Egyptian and international journalists in Egypt," Foreign Secretary William Hague said in a statement.
"I am particularly concerned by unacceptable procedural shortcomings during the trial process, including that key prosecution evidence was not made available to the defense team. Freedom of the press is a cornerstone of a stable and prosperous society."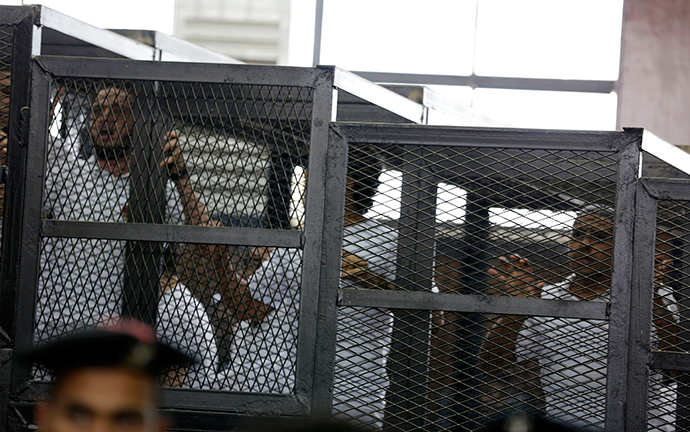 Australia on Monday said it was "appalled" at the sentence handed down to Greste.
"The Australian government is shocked at the verdict," said Foreign Minister Julie Bishop of the seven-year prison sentence.
"We are deeply dismayed that a sentence has been imposed and appalled at the severity of it."
#BREAKING: Australian govt 'appalled' at jail term handed to Al-Jazeera journalist Peter Greste in Egypt

— Agence France-Presse (@AFP) June 23, 2014
Meanwhile, the managing director of Qatar-based Al Jazeera English, Al Anstey, said in a statement that "not a shred of evidence was found to support the extraordinary and false charges against them."
"To have detained them for 177 days is an outrage. To have sentenced them defies logic, sense, and any semblance of justice," he added.
The judge also delivered 10-year sentences in absentia to two British journalists and a Dutch journalist.
You can share this story on social media: