RT condemns Egypt's jailing of Al Jazeera journalists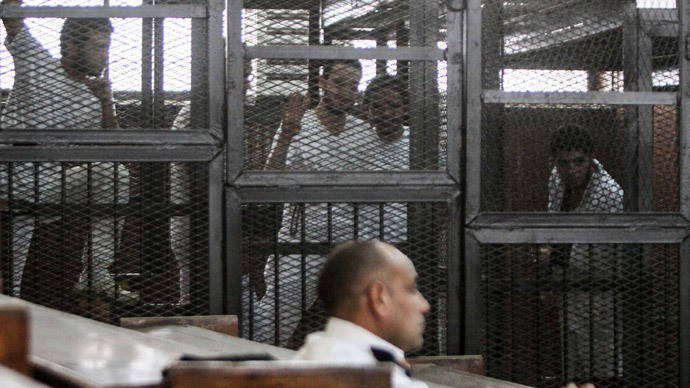 RT has joined the international calls to release Al Jazeera journalists jailed in Cairo, expressing solidarity and support in the face of 'unfair and inhumane' sentences.
Al Jazeera's Mohammed Fahmy, Canadian-Egyptian acting bureau chief, Australian correspondent Peter Greste, and Egyptian producer Baher Mohamed were sentenced to seven years in prison for what Judge Mohamed Nagui Shehata said was "fabricating lies" and supporting the Muslim Brotherhood.
Baher Mohamed was given an additional three years on separate charges.
"RT would like to express its solidarity and support for the Al Jazeera journalists recently convicted by an Egyptian court. We consider the sentence unfair and inhumane. We believe journalists should be free to do their job regardless of which media organization they work for. Regretfully, journalists have been persecuted increasingly often of late, which is unacceptable, considering the crucial role journalism has to play in today's world. We join the international community in its appeals to free the Al Jazeera reporters," RT said in a statement.
@rt_com (social media hit-squad) joins intl call to #FreeAJstaffhttp://t.co/X23k6FnCT3pic.twitter.com/5Jsji9ieRO

— IvorCrotty (@IvorCrotty) June 24, 2014
The court's sentences have been globally slammed.
In Australia the "disgraceful decision" was described as "terrible" by ABC managing director Mark Scott.
The New York Times printed a blank last page bereft of any print except: "This is what happens when you silence journalists. Show your support. Journalism is not a crime. #freeAJstaff."
At the BBC, where Greste had previously worked, journalists and staff held a minute's silence.
BBC journalists around the world protest against jail sentences handed to al-Jazeera journalists http://t.co/apVc97PnUW#FreeAJStaff

— BBC News (World) (@BBCWorld) June 24, 2014
American, Canadian and British officials criticized the sentences with US Secretary of State John Kerry urging Egypt's President to consider "all available remedies, including pardons."
The RT statement adds "The year 2014 has taken its toll on numerous media organizations, including RT, whose reporters have come under fire or suffered mistreatment while covering the crisis in Ukraine" – a reference to RT contributor Graham Phillips, who was detained for over 36 hours by Kiev military on May 20. Russian journalists from LifeNews and Zvezda were also detained and beaten by Kiev troops.
You can share this story on social media: