Israeli soldiers kill Palestinian stabbing suspect at West Bank gas station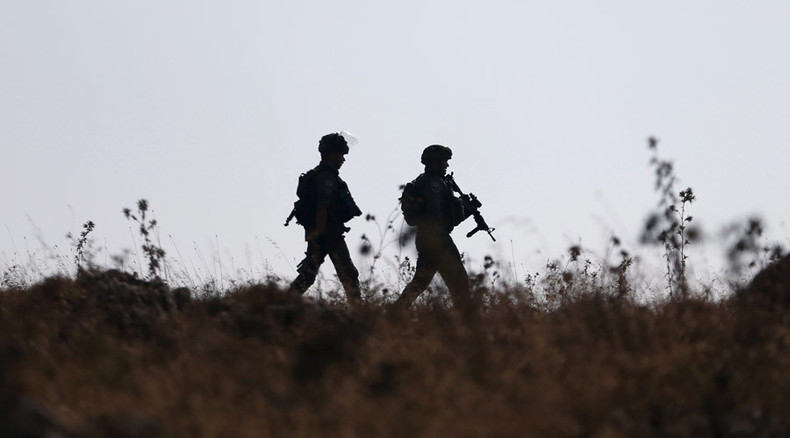 Israeli soldiers have shot and killed a Palestinian man at a gas station in the West Bank on a busy highway outside of Jerusalem to "prevent" the suspect from escaping after he reportedly stabbed an Israeli man, wounding him in the shoulder.
The incident took place on Highway 443 which links Jerusalem with Tel Aviv. The 26-year-old Israeli had been pumping some gas at a station near Beit Horon. The Israeli, who suffered a wound to his shoulder, was rushed to hospital. The Palestinian was confirmed dead on the spot by the IDF.
The reason behind the stabbing is currently under investigation, but the IDF claimed that "a group of Palestinian assailants" assaulted the Israeli, forcing the Israeli soldiers at a nearby checkpoint to open fire to "prevent the suspect from escaping."
The army did not announce whether warning shots were fired prior to engaging the "suspects" southwest of Ramallah.
The fate of the other alleged attackers is unknown, but the IDF believes that three more Palestinians were involved in the attack. Soldiers are now sweeping the area for their whereabouts in the occupied West Bank, as Highway 443 partially runs through the Palestinian territory on its way to Tel Aviv.
Tensions between Israelis and Palestinians have been reaching a boiling point in recent days, following a number of Palestinian deaths at the hands of Israeli soldiers and settlers. One instance stands out in particular – an arson attack by Israeli settlers in the West Bank village on July 31 that killed an entire family, including an 18-month-old baby.
READ MORE: Israel detains 9 as ultra-Orthodox terror crackdown continues
In an effort to stop "price tag" attacks by ultra-nationalist Israeli youths against Palestinians, Israeli authorities raided several West Bank homes and arrested several people suspected of "Jewish extremism" on Sunday as part of "the investigation into the events that occurred in Duma," police said in a statement.
READ MORE: Father of Palestinian toddler killed in West Bank arson attack dies from injuries
Meanwhile a Palestinian official told AFP that a postmortem report on the father who died on Saturday from injuries suffered from the arson attack would be submitted as evidence to the International Criminal Court in The Hague. Last week, Palestinians submitted a request to the ICC to investigate the firebombing and "settler terrorism."