Father of Palestinian toddler killed in West Bank arson attack dies from injuries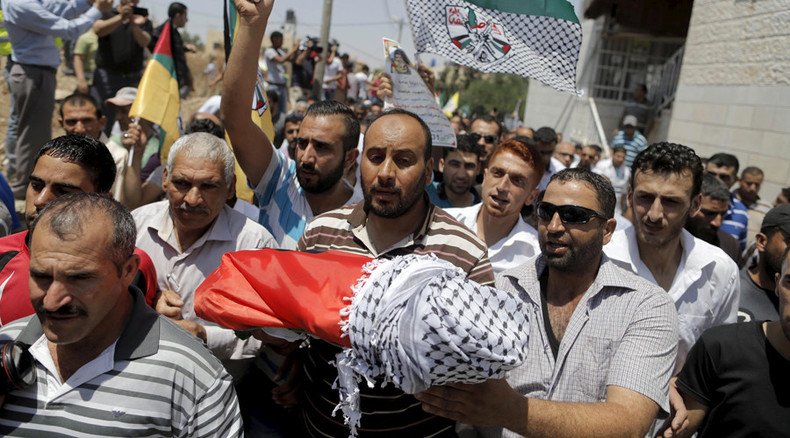 The farther of a Palestinian toddler who was killed in an arson attack on his home a week ago, which was blamed on Jewish extremists, has died from wounds he suffered in the same incident.
The mayor of the West Bank village of Duma, where the family lived, Abdel Salam Dawabsheh, confirmed the death, AP reported. A relative of the family said the family had received news from Israel's Soroka Medical Center that the toddler's father, Saad Dawabsheh, had died. The funeral will take place on Sunday.
The attack, early on the morning of July 31, saw unidentified Israeli assailants hurl a Molotov cocktail into a window of Saad Dawabsheh's home. His 18-month-old son, Ali Dawabsheh was killed in the blaze, while his other son, 4, and his wife were seriously injured.
READ MORE:Palestinian toddler burned to death in suspected Jewish 'price tag' attack
The arsonists left inscriptions on the wall, saying: "Long live the Messiah" and "Revenge" on the wall of the house. Jewish extremists attacking Palestinian homes, Christian churches, mosques and government buildings have typically use the suspected "price tag" tactic. They believe the Israeli government is not doing enough to support their cause.
Palestinian President Mahmoud Abbas blamed the Israeli government for the incident because of its support of Israeli settlements in the occupied territories. He also said the Palestinian leadership was going to refer the matter to the International Criminal Court (ICC) and urged the international community to act.
The militant group Hamas called for "a day of rage" in response to the killing of the Palestinian toddler.
The security services are still looking for the perpetrators, while the Israeli government has come under pressure to crack down on violent ultra-Orthodox Jewish groups. The government has decided to allow harsher interrogation practices on the Jewish suspects, which were once solely reserved for Palestinian detainees.
READ MORE:2 Palestinian teens shot dead amid clashes over toddler killed in arson attack
Following the attacks on July 31, two 17 year-old Palestinian boys were shot dead by Israeli forces in separate incidents amid clashes in the West Bank.
Laith Fadel al-Khaladi, 17, was reportedly shot in the chest by an Israeli sniper near Bir Zeit, north of Ramallah in the central West Bank. The teen died later in hospital from his injuries, the Palestinian Ma'an News Agency quoted medical sources as saying.
According to an Israeli army spokeswoman: "Two suspects approached the security fence of the northern Gaza Strip." One of the figures ignored an order to halt, prompting warning shots to be fired, she told AFP, adding, "the force fired toward the lower extremities of a suspect."
You can share this story on social media: