Tourists bother Barcelonans more than poverty – poll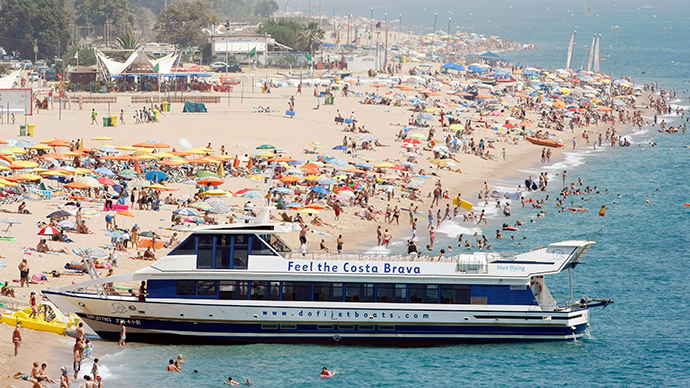 Barcelona residents think mass tourism poses a bigger problem to their city than poverty, a new survey shows, indicating growing discontent among the locals with the crowds of tourists flooding the city.
The public opinion survey conducted by the Barcelona City Hall demonstrated that mass tourism is perceived by the locals as the third largest problem following the unemployment and working conditions as well as traffic, The Local reports.
The survey results show that, although most Barcelonans (31.9 percent) called unemployment and working conditions the worst problem in the city with politics and traffic coming second with 5.5 percent each, tourism ranked third, with 5.3 percent of the locals naming it the most serious problem.
Tourism also outranked poverty in the poll, as it was identified as Barcelona's largest problem only by 5.1 percent of those asked.
READ MORE: Tunisia terror evacuation sparks diplomatic spat as Britons brought home
The survey came as an indicator of the rising tensions between the city visitors and the locals, which grow even more concerned with their city being overrun by tourists. Last year, Barcelona witnessed a record number of visitors amid the mounting anxiety that the city would lose its "identity and essence" becoming a just theme park, reported The Local.
"Barcelona is at a crossroad. If nothing is done, in 30 or 40 years it could become a Venice, a city completely specialized in tourism," Francesc Munoz, a geography professor at Barcelona's Autonomous University, told AFP.
"Barcelona is a global tourism icon. But if the problems continue it could sully this image and end up affecting the city's tourism," said Lopez Palomeque, University of Barcelona geography professor, who worked on the city's 2008-2013 tourism plan, as quoted by The Local.
READ MORE: No more 'ugly Russians': St. Pete lawmaker urges behavior code for tourists abroad
The situation deteriorated last summer, when city residents held protests calling on the city authorities to take measures to reduce the number of tourists visiting Barcelona.
In April 2015, Barcelona banned large tourist groups from accessing the famous La Boqueria market during peak shopping times on Fridays and Saturdays as a response to the locals' complaints of tourists preventing the locals from buying food products because of overcrowding.
On July 2, 2015, the new city mayor Ada Colau suspended the issuing of new tourist accommodation licenses for a year, thus freezing more than 30 projects and incurring displeasure among investors.
READ MORE: Greek capital controls hit tourists, startups & app buyers
The rapid influx of tourists to Barcelona started after the city hosted the Olympics in 1992. Since that time, the number of city visitors has more than tripled, resulting in long queues and crowded streets as well as tourist facilities supplanting the traditional businesses.
In 2014, the city with a population of 1.6 million was visited by 7 million people, The Local reports.
You can share this story on social media: