​Tunisia terror evacuation sparks diplomatic spat as Britons brought home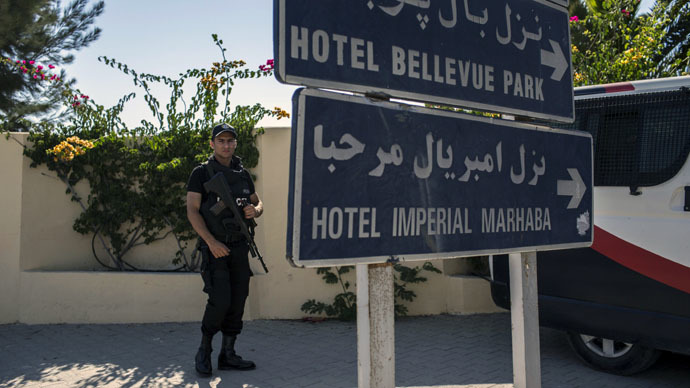 Thousands of British holidaymakers are to be airlifted out of Tunisia as tour operators implement emergency plans following warnings of an imminent terror attack. The move has sparked a diplomatic row between the two nations.
Tour operators including Thomas Cook, Cosmos and Jet2 are sending planes to Tunisia to bring back 3,000 British tourists currently there on package holidays.
The evacuation follows a warning from the UK Foreign and Commonwealth Office (FCO) on Thursday that all British citizens in Tunisia should seek to leave immediately.
In response to the travel caution, Tunisia's ambassador to the UK accused the British government of playing into the hands of extremists by damaging the country's vital tourism industry.
The FCO's travel warning comes two weeks after Tunisian national Seifeddine Rezgui killed 38 tourists – 30 of whom were British citizens – at a Sousse beach resort.
Rezgui, 23, is believed to have trained with an Islamic State (IS, formerly ISIS/ISIL) cell based across the border in Libya. The terrorist organization claimed responsibility within hours of the attack.
Tour operator Thomson, which saw 30 of its customers killed in the attack, will bring all of its staff home from Tunisia following the FCO travel advisory.
An armed escort will accompany coaches carrying holidaymakers to Enfidha airport, which itself is heavily guarded by security personnel.
Around 20 planes will return tourists and staff back to UK airports, with holiday companies providing onward travel where needed.
An unknown number of independent travelers in Tunisia have also been advised to leave the country on commercial flights. Those who choose to ignore the FCO advice against non-essential travel will no longer have valid travel insurance, unless they are trying to find a way to leave the country.
Foreign Secretary Philip Hammond told the BBC the travel warning was put in place because intelligence suggests another terror attack is highly likely.
READ MORE: Tunisia builds wall on border with Libya after deadly ISIS attacks on hotels
He said: "While we do not have any information suggesting a specific or imminent threat, since the attack in Sousse the intelligence and threat picture has developed considerably, leading us to the view that a further terrorist attack is highly likely."
The Tunisian investigation into those behind the Sousse attack, and that on the Bardo Museum earlier this year, is on-going and the Tunisians have made clear they want to track down further individuals who they suspect may have links to this attack.
"Furthermore, we have now completed an assessment of the security measures in tourist areas and while we are working with the Tunisian authorities to further strengthen those measures, we judge that more work is needed to effectively protect tourists from the terrorist threat. Taking all these factors together, we judge that it is right and prudent to make this change today," he added.
In a press statement published on Thursday, Hammond suggested Tunisian police are not capable of ensuring the safety of British tourists.
The Foreign Secretary said: "While we are working with the Tunisian authorities to further strengthen [security] measures, we judge that more work is needed to effectively protect tourists from the terrorist threat."
Tunisia's ambassador to the UK criticized the travel advice, arguing the decision was "what the terrorists want."
Speaking to BBC Newsnight, he said: "By damaging the tourism, by having foreigners leaving the country, they damage the whole sector and put so many people out of work and on the streets."
"Hotels have to close and this is an important industry. One of the sources of terrorism is lack of hope. It is not the only motor of it but it is one of the very important origins."
READ MORE: Tunisia gunman was 'sleeper' agent inspired by London terror cell
The diplomatic spat comes as one of the first funerals for Britons killed in the Sousse beach massacre is due to be held on Friday afternoon.
A service will be held for Scottish couple Jim and Anne McQuire from Cumbernauld, North Lancashire, in Abronhill church, where the couple were active members.
Two other Scots were killed in the terror attack.
Speaking publicly to Sky News for the first time since the attacks, Rezgui's parents expressed disbelief at their son's actions, claiming he had been framed.
Radhia Manai said of her son: "I can't imagine he could carry out such an operation? He was carrying his weapon and was just walking. He didn't fire it. I want to know who fired and then framed him."
Abdul-Hakim Rezgui said of his son: "People say he spent two years training in Libya. How could he train in Libya? How was he able to do that? What about his university?"
"I say to the tourists: God bless those who died. And God bless my son. My son was not capable of this. Bad guys tricked him and God will give him what he deserves."