​Tunisia gunman was 'sleeper' agent inspired by London terror cell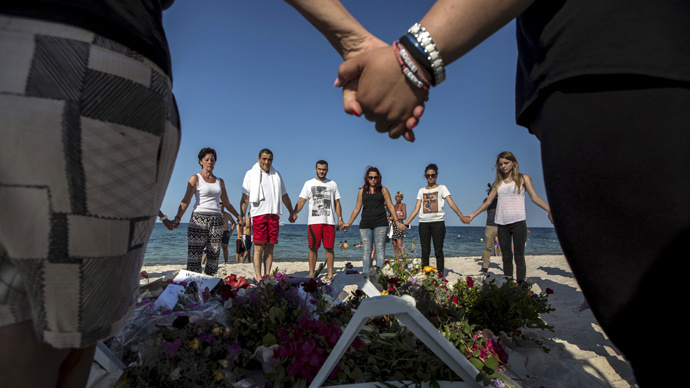 Tunisia gunman Seifeddine Rezgui was an Islamic State "sleeper" agent with links to a hate preacher once active in London, it has been claimed.
The man who murdered 38 tourists at a Tunisian hotel on Friday was allegedly part of a five-person terror cell which had previously fought in Syria.
Rezgui, 23, was inspired by Saifallah Ben Hassine, an Islamic militant who moved to Britain in the late 1990s, according to an investigation by the Daily Mail.
Hassine was himself a close confidant of Abu Qatada, a preacher who was deported to Jordan in 2013 after a lengthy legal battle with the UK Home Office.
A man who studied alongside Rezgui at a university in the ancient city of Kairouan has also claimed he was part of a "sleeper" cell for several years despite being unknown to authorities.
Wassim Bel-a-Del met the man responsible for Friday's massacre at l'Institut Superior des Sciences Appliquees et de Technologie (Issat).
He claims Rezgui was once part of al-Qaeda's Syrian affiliate Al-Nusra Front in 2011, but switched loyalty to Islamic State (IS, formerly ISIS/ISIL) because he "loved everything they stood for."
Bel-a-Del said Rezgui trained in Libya with a terrorist group called Ansar Al-Sharia, a group with allegiance to both IS and Al-Qaeda
The claims follow revelations by the Daily Mail that Rezgui had links with Ben Hassine, an Ansar Al-Sharia leader who lived in London for at least three years in the 1990s.
According to court papers, Hassine had links to Al-Qaeda and "aimed to recruit new members and send them to Afghanistan for training."
"Abu Qatada appears as a watermark running through the whole of this case as being the mastermind," the document adds.
READ MORE: Will Cameron push for another vote to bomb Syria?
Hassine has remained close to Qatada, the Daily Mail reports. In a letter from January last year Qatada described Hassine as "among the best of those I have known in intellect" and "the most knowledgeable of people of my intentions … for he was the closest of people to me."
The British death toll from Friday's attack could rise to 30, making it the worst terror attack on UK citizens since the 7/7 bombings a decade ago.
Rezgui, who was enrolled as a master's student in aviation at the time of the attack, was described as "good" by family friend Monia Raihi.
"I've known him since he was small. He was never in trouble with anyone ever. Maybe he was brainwashed or something," Raihi told the Guardian.
One friend of Rezgui suspected he was training to launch an attack, but was confused by the student's cool demeanor.
Speaking to Sky News, Bel-a-Del described how Rezgui became radicalized.
"In 2011 he was with Al-Nusra, then when Daesh [IS] started in Syria and Iraq he changed his allegiance and supported [them], and he loved everything they stood for."
READ MORE: SAS-style police counter-terror unit unveiled in wake of Tunisia attack
"I know the group that he was working with; it is a group of terrorists. There are some guys who go to Syria and come back and go on to study in the same university and there are others who go and die in Syria."
"[Rezgui] looked like the calmest person in his group but inside he had chosen the ideology and whoever does will be a terrorist – they are a time bomb because when they have chosen to be in a terror group and follow their ideology next time he will do the terrorist act, he will kill people," he added.
Bel-a-Del said he believes Rezgui was ordered to hide his membership of the terror groups as part of a "cell system."
"I am sure the commander told him to disguise himself from the other students. To say he's not a dangerous terrorist or from a terror group. It's a cell system where no group knows what another group is doing. It is just the bosses that connect them."