SAS-style police counter-terror unit unveiled in wake of Tunisia attack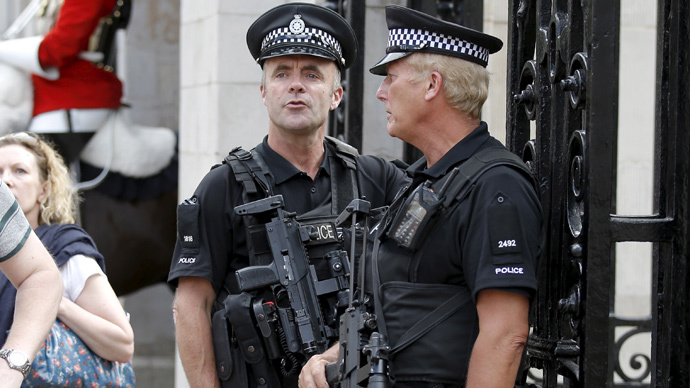 Scotland Yard has revealed the creation of a new unit of armed police officers who will be used to tackle the threat of a gun attack in Britain.
The SAS-style counter-terror unit will comprise of 130 specialist firearms officers (CTSFOs) and will be equipped with new weapons.
They will also receive training in other counter-terror tactics such as storming buildings to rescue hostages and fast-roping from helicopters.
Their formation comes as police and other emergency services carry out a full-scale counter terror exercise in central London on Tuesday morning, following the Tunisian massacre which took the lives of a suspected 30 holidaying Brits.
The new armed unit has trained alongside the army and will be deployed in response to shootings, like the Tunisian attack, and potential sieges which could develop from an assault.
READ MORE: Tunisia massacre: May condemns 'despicable act of cruelty,' pledges to defeat extremism
There has been some debate as to who should be the immediate responders to an attack, with police bosses insisting their officers should be first on the scene of a terrorist attack rather than the armed forces.
They concede, however, that the army may be involved depending on the scenario.
In the case of a gun attack, armed officers would be called to the scene and arrive in under 15 minutes. The new counter-terror unit would also be scrambled.
The aim of the unit would be to "neutralize" any attackers, one police source told the Guardian.
"We're police officers, not soldiers. We're not at war. Our job is to arrest people," they said, adding that officers would be instructed to use minimum force and would be subject to the legal repercussions of their actions.
Counter-terror measures in the UK have been ramped up in recent months with officers making nearly one terrorism-related arrest each day.
READ MORE: Cameron vows 'full spectrum' British response to ISIS Tunisia shooting
The two-day training exercise in London this week is designed to test how all the emergency services respond to a terror attack.
As well as security forces and medical services, the government's COBRA committee will also be involved.
The exercise was devised in January. Police Commissioner Sir Bernard Hogan-Howe said it was in response to the increasing threat of terrorism.
"Over the last year the rate of arrests has increased. We are arresting about one person a day for terrorist offences. It is clear during that time that we've disrupted some very serious plots and some of those cases are going to the courts," he said.
"The reason we have exercises like today is because, obviously, we are concerned there are people planning terrorist events. We intend first of all to stop them from getting to attack. But should we not stop the terrorists in their planning, it's essential we disrupt them in any of the attacks that may take place.
"With events like today we are committing around 1,000 people to exercise our plans and make sure that should the worst happen we are ready. And we will be."