​Tunisia builds wall on border with Libya after deadly ISIS attacks on hotels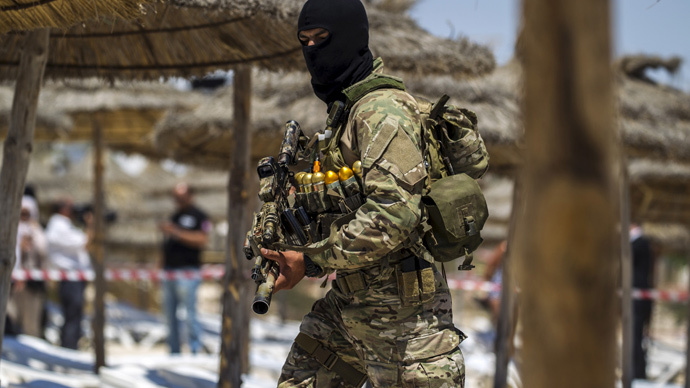 Tunisia has started to build a 168 km-long wall along the border with Libya to defend from Libyan terrorists and to prevent its own citizens from joining Islamic State. The decision follows bloody Sousse terrorist attacks.
The wall is expected to be finished by the end of the year, Tunisian Prime Minister Habib Essid said as cited by the Associated Press. The barrier will consist of a long trench and sand fortification and will have a number of surveillance posts. Essid added that construction process had already begun but warned that it would be a difficult task to secure the border with Libya.
Tunisia also will be provided with logistical and technical support by France and the United Arab Emirates, said Tunisian president Beji Caid Essebsi and his French counterpart Francois Hollande during a press conference in Paris.
According to the Washington Post, the Tunisian government planned to build the wall along the Libyan border as early as in 2012, but it has become a more urgent matter after Islamic State (formerly ISIS/ISIL) committed a number of bloody attacks in 2015.
READ MORE: At least 38 killed as gunmen attack beach outside 2 tourist hotels in Tunisia
The latest one occurred on June 26 at the tourist resort at Port El Kantaoui near the city of Sousse when a 23-year-old jihadist Seifeddine Rezgui, who was trained in Libya, opened fire from an assault rifle at the five-star hotels "El Mouradi Palm Marina" and "Riu Imperial Marhaba." Almost 40 people were killed and more than 30 others were injured. Most of them were foreigners, causing thousands of tourists to flee Tunisia soon after the act of terror. Major Scandinavian tour operators stopped all the tours to Tunisia this season, AP reported.
On March, 18 two gunmen killed more than 20 people in the Bardo museum in Tunis. Both terrorist attacks were claimed by Islamic State militants.
Building a wall is not the only measure being taken by the Tunisian government after the attack. On July 4, Tunisian president Essebsi declared a 30-day state of emergency. Prime Minister Essid also ordered to close about 80 mosques reportedly accusing them of "spreading venom," which caused an outrage of Tunisian clerics.
READ MORE: 'Forced measure': Hungary to build fence along Serbia border to stop migrants
Tunisia is not the first country that is building a wall along its border. Earlier in July Hungary announced construction of a 175-km fence on the Serbian border to stop the flow of illegal migrants.
Israel has a barrier dividing the West Bank, a source of regional controversy, and is building another wall on its border with Jordan.
One of the longest border fences is a so-called Moroccan Wall, which is about 2700 km long and separates areas under control of West Sahara POLISARIO rebels from Moroccan controlled territories. Morocco is itself separated from Spanish-controlled North African towns of Ceuta and Melilla to prevent illegal migration.
The USA has also constructed a barrier along the border with Mexico aimed at decreasing illegal immigration.