At least 38 killed as gunmen attack beach outside 2 tourist hotels in Tunisia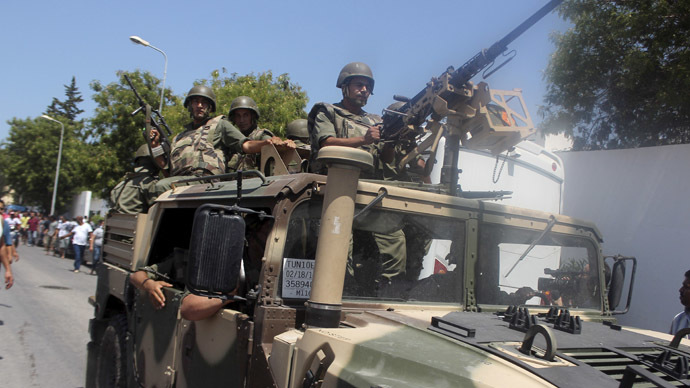 A beach outside two hotels in central Tunisia have been attacked, with at least 38 dead and 36 injured, and panic being reported at the scene. Two gunmen armed with Kalashnikov rifles reportedly penetrated a private area and opened fire.
READ MORE: 'Run, run, run...' Eyewitnesses share their accounts of Tunisia beach massacre scene
One of the hotels is the five-star Imperial Marhaba. According to Tunisian Prime Minister Habib Essid 38 people were killed in the attack, mainly foreigners.
"The majority are British," Essid told a news conference. "After come the Germans, then the Belgians and then other nationalities," he said, adding that there were also French among the victims.
Gunfire reported at scene of tourist hotel, local radio at site reporting multiple victims in Sousse #Tunisia

— Patrick Markey (@PatrickMarkey2) June 26, 2015
DERNIERE MINUTE - Tunisie : des tirs devant deux hôtels à Sousse, au moins 7 morts http://t.co/XMJwT33WkMpic.twitter.com/QmJs3QW9Xy

— Le Monde (@lemondefr) June 26, 2015
The ministry said the death toll in what is considered a terror attack could rise. Local media say over 36 people have been injured.
According to @Jawhara_FM 1 terrorist and 13 tourists are dead on the terrorist attack happened few min ago in Sousse #Tunisia

— AhmEd Hamza (@ahmedhamza87) June 26, 2015
"It happened about half an hour ago – I heard a bang and I thought it was thunder but it was a clear sky so it obviously wasn't," a witness told Sky News. "I heard sirens going off about 20 minutes ago and everyone came running back from the private hotel beach which is about 400 metres from the hotel. Everyone is a bit clueless about what is happening."
BREAKING: Interior Ministry: Gunmen kill at least 7 people in attack on 2 hotels on Tunisian coast.

— The Associated Press (@AP) June 26, 2015
"We were told to go back to our rooms because there were reports of a bomb," another witness staying at a hotel near-by also told The Daily Mail.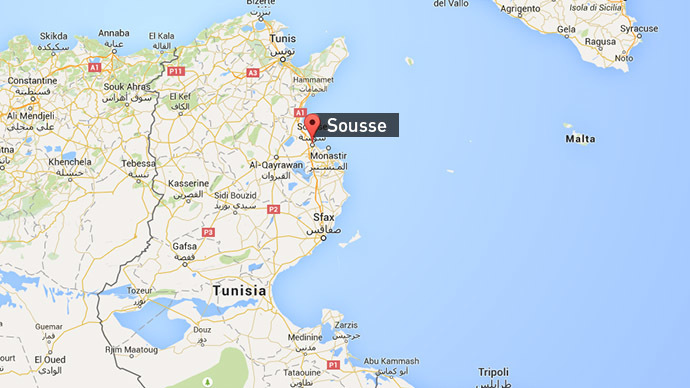 #Tunisia: "Gunshots on the beach, mass panic here. Confusion rife. (@ El Mouradi Palm Marina in Sousse, Gouvernorat de Sousse)" @garypine

— Ian Geldard (@igeldard) June 26, 2015
Witnesses say they were first told to leave the beach and lock themselves in their rooms, and later to gather in the lobby.
The hotels are in the tourist complex of Port El Kantaoui, some 10 km from the city of Sousse in central Tunisia.
British tourists barricade themselves into their hotel rooms after gunfire on Tunisia beach http://t.co/KxHzAFSTPgpic.twitter.com/K2IWC7rSFu

— Sky News (@SkyNews) June 26, 2015
Photos showing at least two dead bodies and a suspected gunman killed by security forces are circulating on the web. There is some confusion whether he had any accomplices. Reports on Twitter said one or two more suspected shooters were captured after the attack, but later Tunisia's Interior Ministry stated the man had been acting on his own.
There are apparently two different hotels under attack in #Tunisia right now pic.twitter.com/lQLhFSXSI0

— Conflict News (@rConflictNews) June 26, 2015
Sousse is one of Tunisia's most popular beach resorts, which attracts tourists from Europe as well as neighboring countries.
The North African country has been on high alert since Islamist gunmen attacked the Bardo museum in the capital of Tunis in March, killing 22 people including foreign tourists. Islamic State militants claimed responsibility for that attack.
You can share this story on social media: