​'Forced measure': Hungary to build fence along Serbia border to stop migrants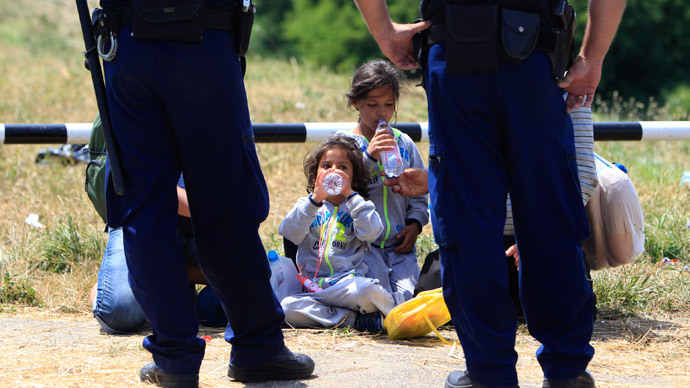 The construction of a four-meter-high, 175-km-long fence is to start along the Hungarian border with Serbia "within weeks" to limit the flow of illegal migrants into the EU, according to Hungarian Prime Minister's chief of staff.
The central European country has become more entrenched in the last month's plan to build a fence at the border with its southern neighbor, according to Janos Lazar, Prime Minister Viktor Orban's chief of staff, Reuters reported on Thursday.
READ MORE: Hungarian police fire tear gas to 'pacify' overcrowded migrant camp
"Hungary needs Serbia as an ally, we want to keep this alliance and strengthen it," Lazar said at a news conference. "We will raise this barrier on the border on a temporary basis in the hope that Europe manages to find a definitive solution to this issue soon."
The cost of the fence is estimated at 5 to 10 billion forints ($17.7 million-$35.4 million).
With a population of 10 million people, Hungary has received over 67,000 illegal migrants since the beginning of the year, with most crossing over from Serbia. As an EU country, it belongs to the visa-free Schengen zone, which makes it an attractive transit spot for tens of thousands of people heading to Western Europe from the Middle East and Africa.
While the EU is desperately trying to equally spread the burden of asylum seekers between its 28 member states, the Hungarian plan has found no support from Serbia, the European Union, human rights groups, or the United Nations Refugee Agency.
Hungarian Prime Minister Viktor Orban said that for Hungary the fence was merely "an issue of border control." "We don't consider it an issue of human rights, of foreign policy or of bilateral relations," he said, according to AP.
We're urging Hungary not to amend its asylum system in a rush ignoring international standards http://t.co/QC7jaAaKMXpic.twitter.com/o7ZUNIpfP0

— UN Refugee Agency (@Refugees) July 2, 2015
On Friday, Hungarian parliament is set to vote on the possibility of taking a decision over a planned tightening of asylum rules before the summer recess. The government has already started a billboard campaign with slogans reading "If you come to Hungary, do not take the jobs of Hungarians," and "If you come to Hungary, you must respect our laws."
READ MORE: 'Overburdened with immigrants': Hungary suspends EU rules on accepting refugees
"It's an illusion for anyone to think that people from the African crisis areas will keep arriving in Europe only until the crises there are pacified," Orban said, as cited by AP. "If we allow it, a modern mass migration could take place of millions, even tens of millions and even hundreds of millions."
In 2014, Hungary became the second on a list of EU member countries in the number of asylum requests per capita, following Sweden. In the meantime, the nation faces an increasing "brain drain." According to Hungary's Central Statistical Office, the emigration rate in 2014 was 46 percent higher than in 2013. And while the real figure could be even higher, 77 percent of the people leaving the country for better job prospects are under 40 years of age.
This April, the government introduced a new 100 million forint ($354,500) scheme, dubbed "Come home, young person." Within its framework, young people who decide to repatriate are given 100,000 forints ($355) every month for a year's time, as well as get a free ticket for a flight back home. About 800 people have taken advantage of the program so far, that is, from 350,000 Hungarians, who currently work abroad.
You can share this story on social media: