Hungarian police fire tear gas to 'pacify' overcrowded migrant camp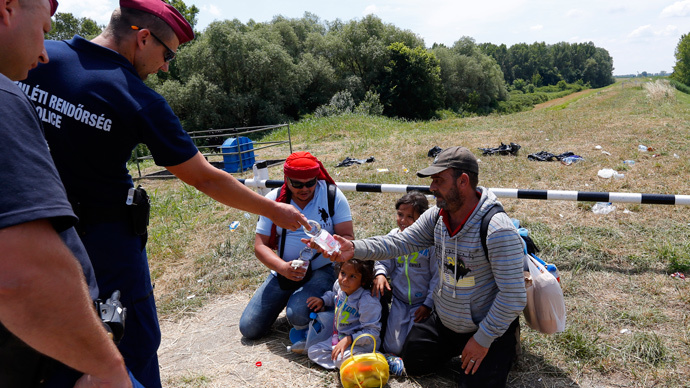 Police in the Hungarian town of Debrecen have used tear gas against unruly migrants in a local camp. The riot broke out as Hungary is overwhelmed by an influx of migrants it says it cannot contain.
Some 100 migrants from the camp blocked a nearby road, throwing stones at passing cars and setting trash bins on fire, the Delmagyar news portal reports.
Police report it is not entirely clear what started the rioting, with spokesman Denes Dobo saying there was a row between two Turkish nationals and several other migrants, which escalated into a brawl. "Right now there is calm in the camp, police [are] upholding public order and security," Dobo said.
(Warning: stong language.)
READ MORE: 'Overburdened with immigrants': Hungary suspends EU rules on accepting refugees
Police spokeswoman Erika Demeter said tear gas was employed to "pacify people," but no one was injured.
Hungary's Prime Minister Viktor Orban earlier said his country is bearing the brunt of this year's migrant influx. Some 60,000 African and Middle Eastern migrants have crossed into Hungary, and the number could rise to 150,000 by the end of the year, the Hungarian government estimates.
There is a record inflow of migrants to the EU from restive African countries and the Middle East, and Hungary is one of the first countries along their way. The country has recently suspended EU rules under which it was obliged to take back all the refugees that entered Europe through its territory.
READ MORE: 60,000-migrant burden: EU leaders agree to share, but still don't know how to go about it
"Hungary has used up the capacities at its disposal," the statement on Tuesday said. "The situation requires fast action; in this escalated situation Hungary needs to [make]a move ahead of EU decisions."
EU leaders are in a frantic search for a solution to the migrant crisis, which has so far only resulted in the scrapping of a previous idea that involved mandatory migrant quotas for all member states.
Migration to Europe has surged by 149 percent compared to last year. Apart from the obvious overcrowding problems, it has triggered spikes of far-right sentiments across the continent.