Greek capital controls hit tourists, startups & app buyers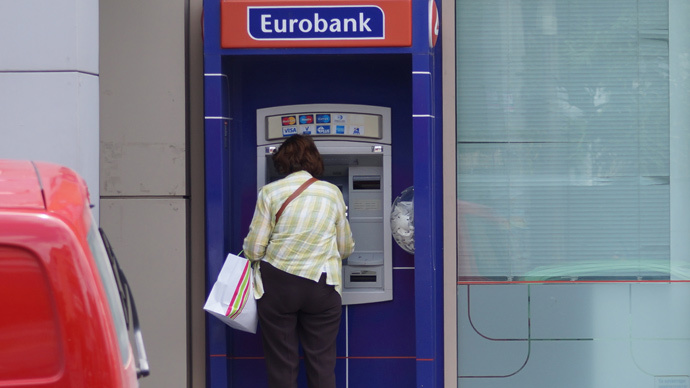 The capital controls imposed by the Greek government to protect the country's banking system from collapse have left many people and companies, both Greek and foreign, scratching their heads as to how to go about their lives and businesses.
Debt crisis: Will Greece exit euro? LIVE UPDATES
Alexis Tsipras's radical left Syriza government has limited cash withdrawals from ATMs this week to $60 a day and banned international bank payments to prevent investors taking billions of euros out of the country and a bank run by ordinary Greeks. Greeks are to vote Sunday on whether to accept or reject a new tough austerity package from foreign lenders, which Tsipras says is tantamount to blackmail.
If the Greeks vote 'No', EU leaders and some economists argue the country may exit the Eurozone, but the Greek government insists that this is not in the cards – and is definitely not its intention.
READ MORE: Greece closes banks, imposes capital controls
The capital controls are already complicating the lives of ordinary people and companies of all sizes, from tiny startups to international tech giants.
Foreign tourists in Greece have found their bank cards not much help in providing them with spending money. Tour operators and foreign governments suggest that tourists carry enough cash for emergencies if they are vacationing in Greece.
Constantine Michalos, president of the Athens Chamber of Commerce, has warned darkly that not only banknotes, but also basic goods like medicine and food, may be soon in short supply in Greece.
Greece to run out of essential food and medicine within days and banks down to last €500m http://t.co/W2kJ1daCyHpic.twitter.com/ukpfXHk2wg

— Telegraph Finance (@TeleFinance) July 3, 2015
"We will see as of next week shortages on the shelves," he told BBC Radio Four. "We are not in the position, although we may have funds in our accounts, to actually import goods and the major worry here is with basic sectors of the economy such as food and pharmaceuticals."
Greeks are already hoarding gasoline and other essentials in the expectation of further turmoil.
Tourist troubles also hit some Greeks traveling abroad, as their bank cards are being rejected by local shops. One newlywed couple got stranded in New York as their honeymoon was turned into a nightmare.
"We were hungry, and I cried for two days," Valasia Limnioti told NBC News. "I felt homeless in New York."
In the meantime, Greek tourism companies are not suffering too severe losses due to the crisis, according to a statement from Deputy Tourism Minister Elena Kundura.
She said that she was officially notified by international tour operators, the Association of Greek Tourist Companies, as well as many others, that they haven't seen many losses.
"And if there is a slight decline in tourist traffic these days, it will stop as soon as we get back to the normal rhythm of life," she said.
With their cards being bumped back, the couple relied on the local Greek community for food, shelter and other essentials.
Back in Greece, the ban on international payments affected tens of thousands of ordinary people purchasing from abroad. Clients of Amazon, Apple, Google, Facebook and PayPal found they were unable to pay for things such as new songs on iTunes.
Ryanair, one of the companies affected by the payment clog, has started accepting cash in Greek airports. Other firms said they would look into the problem and come up with a solution.
READ MORE: Tsipras asks for 30% debt haircut, 20yr grace period
Not being able to pay for ads in social networks may be a minor inconvenience for Greek companies, but the problem extends to much more vital operations like hosting or email services. Startup firms with no options to circumvent the restrictions are among the most affected, wrote Fast Company, a business news website.
"If they're doing business in Greece and generate revenues only in the country, it's really tough to overcome these barriers," it cited Greek entrepreneur Nick Drandakis as writing.
Greek tech companies with foreign bank accounts are currently banding up to help smaller firms with no such luxury pay for crucial cloud services, the report said.
According to an IMF estimate, Greece needs €10 billion over the next few months and an additional €50 billion over three years to cope with the crisis. On Friday, Greek PM Tsipras requested a 30 percent cut in the country's debts and a 20-year grace period.