Debt crisis: Will Greece exit euro?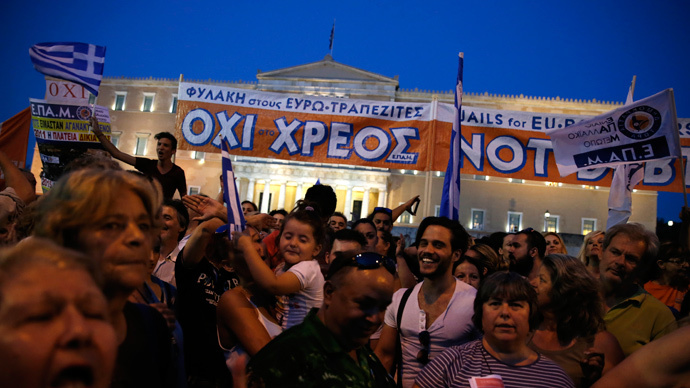 Greece and its lenders have been gridlocked in talks over its €240-billion debt for five months. Fears of Greece defaulting are causing a run on the banks, with people withdrawing record amounts of deposits. RT will report on the latest developments.
06 July 2015

13:01 GMT

The "No" vote in the Greek referendum could lead to social upheaval or civil war. "We might not see Tsipras in power within 2 weeks," journalist and author Ernst Wolff told RT.

04 July 2015

09:04 GMT

Greek Finance Minister Yanis Varoufakis has compared the actions of Athens' creditors to "terrorism."

"What they're doing with Greece has a name - terrorism," Varoufakis told the Spanish daily El Mundo, AFP reports. "What Brussels and the Troika want today is for the 'Yes' [campaign] to win so they could humiliate the Greeks."

08:55 GMT

Europe would easily survive a possible Grexit, according to Austria's Finance Minister Hans Joerg Schelling.

"For Europe, this would be easy to manage economically. For Greece, it would indeed be considerably more dramatic," Schelling told online newspaper Die Presse, Reuters reports.

The minister, however, cautioned against exaggerating the extent of economic hardship awaiting Greece in case it leaves Eurozone.

"There's a propaganda war going on here. It's exaggerated to think that all the Greeks will have to live in the streets or won't have access to medical care," he said.

03 July 2015

19:32 GMT

There is immense pressure on Greek society from Brussels for 'Yes' vote, French economist Jacques Sapir told RT.

18:46 GMT

Sunday's referendum is about staying in the EU and deciding to live in dignity, said Greek PM Alexis Tsipras at a rally in Athens. He told the demonstrators that "whatever happens on Monday, this is a celebration of democracy." He called on voters to give a "proud 'No' to ultimatums and those who terrorize you."

'Democracy is a cause of celebration': #Tsipras addresses thousands in #Athens at #OXI rally http://t.co/0M1bJ2Rlnlpic.twitter.com/3ezqxm7uuf

— RT (@RT_com) July 3, 2015

18:20 GMT

Around 27,000 people are taking part in two rallies in central Athens, TASS reported, citing sources in local police.

Some 15,000 gathered at the Syntagma Square by the Greek parliament, protesting austerity proposals from Greece's creditors. PM Alexis Tsipras is expected to address the crowds at this rally.

Another rally is taking place by the famous Panathenaic Stadium, which hosted the first modern Olympic Games. Some 12,000 supporters of a "Yes" vote in Sunday's referendum have gathered there, according to police estimates, as reported by TASS.

The number of protesters is reportedly growing according to AFP, citing police. The agency says 25,000 people are at the "No" rally, while 20,000 have gathered to support the "Yes" vote.

16:53 GMT

Greece's top administrative court has rejected an appeal against the Sunday referendum submitted by two Greek citizens, Reuters reported.

Saying that the appeal against the vote on a bailout package from creditors was rejected, the presiding judge in Greece's Council of State court, Nikolaos Sakellariou, said that "the referendum will be held" as scheduled.