Iraqi jet accidentally bombs Baghdad, kills 12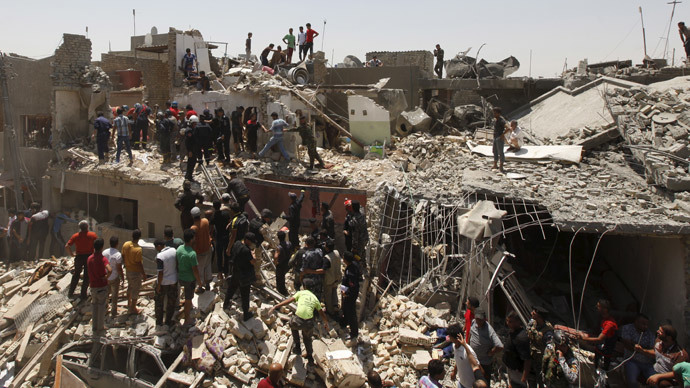 An Iraqi military jet accidentally dropped a bomb in eastern Baghdad on Monday, killing at least 12 people.
The Russian-made Su-25 warplane was returning to base after performing airstrikes against the Islamic State (IS, formerly ISIS) terror group, which controls large parts of Iraqi territory.
"One of the bombs became stuck because of a technical problem, and during [the jet's] return to base it fell on three houses in Baghdad Jadida," Brigadier General Saad Maan, a security spokesman, said as cited by AFP.
Twelve people, including three children, lost their lives as a result of the accidental bombing, in which 25 civilians were also wounded, AP reported.
Iraq obtained a batch of second-hand Sukhoi jets from Russia and Iran in 2014 from in order to boost its air force in the fight against IS.
The Su-25 is known for its reliability, but the Iraqi military relies on aged planes, which perform too many flights.
The timely arrival of the Russian-made jets helped to shift the military balance in favor of the Iraqi army in the fighting against IS, the Defense Ministry said.
READ MORE: Target ISIS: First batch of Russian fighter jets arrives in Iraq
The production of Su-25 began in the USSR in 1978, with the plane designed to provide close air support to the troops on the ground.
The Iraqi authorities are still waiting for the delivery 36 F-16 warplanes, which Washington promised to sell to Baghdad in 2012.
The first batch of the US planes has not reached Iraq yet as it remains stuck in Arizona where the Iraqi pilots are training.
Islamic State controls Iraq's second-largest city, Mosul, and most the of the western Anbar province after a large-scale offensive last summer.