'I feel only pain': Gaza children suffer emotional trauma one year after war – report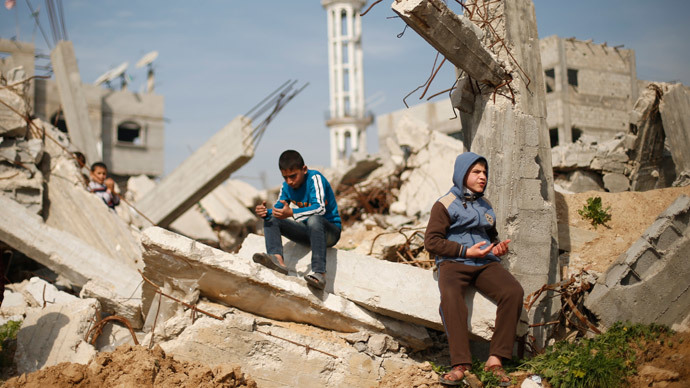 Regular nightmares, fear about another war and refusal to step outside their homes – all these are symptoms of emotional trauma experienced by the children of Gaza a year on from the deadly Israeli operation, a report by an international watchdog says.
"Unexpectedly high levels of continued severe emotional distress and trauma were reported to us by children and their parents in Gaza,"says a report by Save the Children International, an organization which has been working in Gaza, and across the occupied Palestinian territory for over 30 years.
The organization interviewed 413 children and 352 mothers living in the hardest-hit areas in the Gaza Strip.
READ MORE: UN blames Israel for attacks on schools during Gaza War
According to the group, the children are suffering from nightmares, listlessness and lack of motivation, as well as from isolation and withdrawal.
"My children were in the street [during the war] and saw the body pieces on the street after a shelling. My son is now traumatised, and my daughter has nightmares and wakes up frightened. I don't know how to help them," one father told the group.
A year on from deadly war, children in #Gaza's hardest-hit areas still show signs of severe emotional distress > http://t.co/8RBGZQnY4C

— Save the Children UK (@savechildrenuk) July 6, 2015
Up to 89 percent of parents told the organization that their children "suffer consistent feelings of fear" while more than 70 percent of children in Gaza worst-affected areas "worry about another war." More than half of the children are afraid to go to school.
"Some explained that they are afraid to leave their homes; others feel unsafe in school buildings, some of which were damaged or destroyed in the conflict. Some children who have had to move to new areas after their homes were destroyed feel too anxious to try and make new friends," according to the study.
The group's estimates show that at least 551 children in Gaza were killed and 3,436 were injured – 10 percent of whom suffered a permanent disability as a result.
"Out of my five daughters, the only one uninjured in the war was Nada, and now she doesn't talk," says Ahmad, a father of the girl. "She cries a lot. She is exhausted all the time, suffers nightmares."
READ MORE: 'Love is the only God!' Music producer & activist cries on air talking about Palestinian kids
'It's vital that the world does not forget #Gaza's children': new blog from @DaisyStella > http://t.co/kjnXNCRqSEpic.twitter.com/pmsV9lz1U1

— Save the Children UK (@savechildrenuk) July 6, 2015
The children say that they feel trapped and can go back to normal life in the region after the conflict.
"Why do Gaza's children have no rights? Why can no one feel our pain? I want one human to come and live in Gaza just for two hours. I don't want him to stay for a day, just two hours to feel what we feel," a 14-year-old boy from Gaza told the group by phone, "Our future is gone."
A 12-year-old girl added that she saw her home being destroyed.
"I was crying because we have memories and dreams there, from the day of our birth. I'm afraid they may bomb us. We're now in my grandfather`s house. My memories, pictures, clothes, toys… everything is gone. I can't live, I only feel pain," she added.
READ MORE: 'War crimes': Israeli bombs wiped out entire families in Gaza, Amnesty says
The groups' CEO Justin Forsyth said that the world "cannot sit by and watch while these children's hopes for a better future are crushed by the blockade and the looming threat of another conflict."
"Political leaders on all sides should stop posturing and start acting – they need to work together to agree to a plan for a lasting peace deal that includes ending the blockade on Gaza," he added.
The 2014 war in Gaza killed more Palestinians than any other year since the Israeli occupation began in 1967. According to UN figures, 2,314 Palestinians were killed in 2014 and 17,125 were injured.
You can share this story on social media: