'Love is the only God!' Music producer & activist cries on air talking about Palestinian kids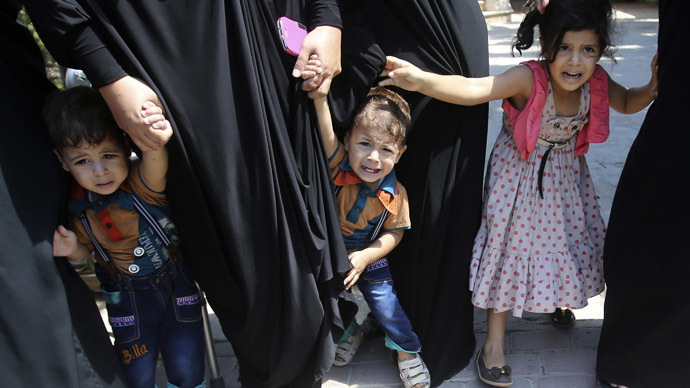 Producer and peace activist Steve Robertson explains why he is campaigning for Palestine and talks about his latest project – a benefit album for Gaza relief involving Grammy award winning musicians, and the message of peace it promotes.
Support for the Palestinian cause comes in many forms. A group of world famous Grammy award-winning musicians have united to make an album in support of the Palestinian people called '2 Unite All'. Among the musicians who took part were Peter Gabriel from Genesis, Rick Allen from Def Leppard, System of a Down frontman Serj Tankian, and opera singer Sasha Cooke.
The man behind the album, Steve Robertson who is also CEO and founder of Project Peace on Earth, spoke to RT's In the Now.
Project Peace on Earth, he explained, has been involved in several Middle East peace initiatives.
"In 2011 we brought a thousand Palestinian refugee children to the base of the Mount of Temptation in Jericho and had them form the image of the Picasso Peace dove. This was followed up by a live concert in Bethlehem," said Robertson.
In 2012, they organized another event called "Free All" where several hundred Palestinian boy and girl scouts went to the dividing wall in Bethlehem and placed their paint-covered hands on it to create a visual plea to tear it down.
READ MORE: Palestinian death toll in 2014 highest since 1967 – UN
Choking back tears, Steve explained that when he heard about a little girl in Gaza in a coma in hospital, who if she woke up would learn that all her family had been killed by Israeli bombs, he realized he had to do something. This was the impetus behind the album '2 Unite All'.
Israel killed more Palestinians in 2014 than any other year since occupation began in 1967. According to UN figures, 2,314 Palestinians were killed in 2014 and 17,125 were injured. In 2013, less than 40 were killed and around 4,000 injured.
READ MORE: Palestine gets ICC membership, opening door to Israel war crimes prosecution
Steve explained he had issues with a couple of musicians in Hollywood, which has a powerful Jewish lobby, but by far the majority freely and honestly stood up for the Palestinian cause.
"All the musicians took a really bold and powerful stand on this. Peter [Gabriel] really fell on the sword and no-one else could have done this without his sort of stature in the music community," he said.
Steve then drew attention to the wall that the Israelis have built around Palestine.
"People don't really understand that there's a 40-foot high wall built around Palestine and that Gaza is solitary confinement around this prison wall system," he said.
Robertson said the Israelis are just as deserving of love and protection too.
"All these spiritual teaching are showing us is that there's really only one God and that's the God of love, if we can find that love within ourselves and share that love with other people, we will have peace on the planet. And that's what these musicians really united around, which is that message '2 Unite All'," said Robertson.
You can share this story on social media: