UberPOP services suspended in France after violent protests, arrest of managers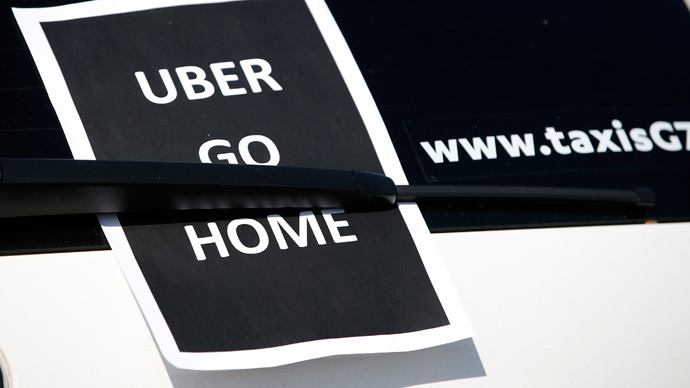 Uber has decided to suspend its controversial low-cost uberPOP taxi service in France, citing "intimidation and assaults" against its drivers. The announcement comes following violent protests against the controversial application.
"From that evening 20:00 [18:00 GMT], Uber suspends uberPOP [service] in France. This option disappears from your Uber application," the companysaidon its website.
According to the company, in recent weeks there were many cases of violent attacks, "intimidation and assaults" against Uber taxi drivers.
"Uber does not wish to have the slightest risk for drivers and passengers of uberPOP."
READ MORE: Uber managers arrested in France for 'illicit activity' amid crackdown
The information was also confirmed by Thibaud Simphal, manager of Uber France, to France's Le Monde newspaper.
Uber suspend uberPOP en France #UberEtMoi > http://t.co/xHrIAmT4GTpic.twitter.com/sYc8cehAto

— Uber France (@UberFR) July 3, 2015
He said that the first reason to shut down the service was "to assure the safety of Uber drivers," adding that that the company also wants "to create a spirit of reconciliation and dialogue with public authorities to show we are acting responsibly."
"Over 400,000 passengers use uberPOP because it brings a new service, reliable and safe. In the growing sector of urban mobility, where more and more people give up their cars, there is a complementarity rather than competition between the different modes of transport," Simphal said.
UberPOP, a ride-sharing service of US-based company Uber, has been in Paris since 2011 and then expanded to other France's cities. The app connects its users to unlicensed private drivers, unlike the mainstream Uber app, which employs chauffeurs, who have some sort of a license or permit. Uber claims it has about 400,000 uberPOP customers in France.
#Uber annonce la suspension du service #UberPop en France (dans un entretien au "Monde") http://t.co/1ZMuf8PAMzpic.twitter.com/MDP7SITeQj

— Le Monde Live (@lemondelive) July 3, 2015
French authorities were unhappy that Uber drivers don't pay the same taxes as traditional taxi drivers. Uber, in its turn, says that the French taxi system is outdated and needs to be brought up to speed with developments in mobile phone technology.
UberPOP has been banned by the French government since January. However, a court ruling has said that the service can continue to practice in the country.
On Monday, two managers from the low-cost taxi app were arrested in Paris and questioned over alleged "illicit activity." AFP cited them as Thibault Simphal and Pierre-Dimitri Gore-Coty. They are to appear in court on September 30.
Earlier in June, French taxi drivers staged mass protests against drivers using the Uber taxi app.
There were reports of suspected Uber drivers being "hunted down" by groups of taxi drivers at Charles de Gaulle and Roissy Airports. Alleged Uber limousines were overturned at Charles de Gaulle and Porte Maillo on the outskirts of the French capital.
READ MORE: 'Safer in Baghdad': Courtney Love caught in anti-Uber mayhem, cars set ablaze in Paris
France's Interior Minister Bernard Cazeneuve sided with the traditional taxi drivers, calling for a nationwide legal clampdown on Uber's ride-sharing service.
"UberPOP is an illegal service, it must be closed down… The vehicles of UberPOP drivers should be systematically impounded when they are openly breaking the law," he said.
French Prime Minister Manuel Valls has welcomed the suspension of the uberPOP service, but acknowledged that the country's taxis need to improve the quality of their service.
"Taxis need to reform, too, to contribute to our country's attractiveness," he said, Reuters reported.
Uber's founder, Silicon Valley entrepreneur Travis Kalanick, said Paris was his "inspiration" for the application. He got the idea of introducing the service while trying to get a taxi there.