Uber managers arrested in France for 'illicit activity' amid crackdown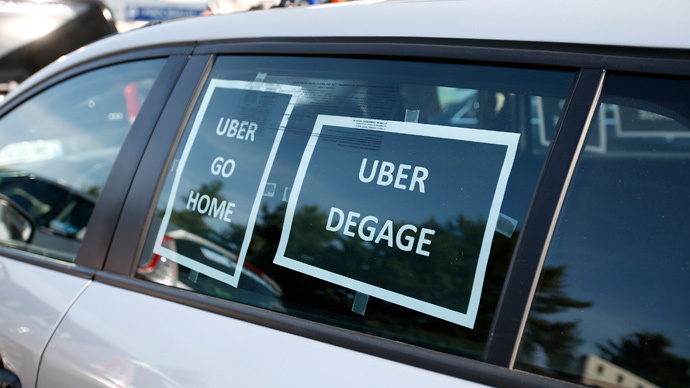 Two managers from the low-cost Uber taxi app have been arrested in Paris and are being questioned over alleged "illicit activity." The system allows drivers to charge passengers for rides, but escape paying the same taxes as traditional taxis.
Agnes Thibault-Lecuivre, a spokeswoman for the Paris prosecutor did not name the pair. However, AFP cited them as Thibault Simphal and Pierre-Dimitri Gore-Coty. The two are suspected of "inciting illegal employment," BFM TV reports. Interior Minister Bernard Cazeneuve said earlier that their activities promoting the Uber application were effectively encouraging violations of the law.
Uber France GMs Thibaud Simphal & Pierre-Dimitri Gore-Coty face #Disruption after arrests http://t.co/1uiVByqxOQpic.twitter.com/aMaJzpkn3A

— Just Aguy (@chi1cabby) June 29, 2015
The French government has been irked by the low-cost taxi service, which is based in the US.
READ MORE: French govt files charges against 'cynical' Uber app
France is frustrated that Uber drivers do not pay the same taxes as traditional taxi drivers. However, Uber says that the French taxi system is outdated and needs to be brought up to speed with developments in mobile phone technology.
French taxi drivers staged mass demonstrations last week, protesting drivers using the Uber taxi app.
There were reports of suspected Uber drivers being "hunted down" by groups of taxi drivers at Charles de Gaulle and Roissy Airports, the Independent reported. Alleged Uber limousines were overturned at Charles de Gaulle and Porte Maillo on the outskirts of the French capital.
American singer Courtney Love got caught up in the mayhem and expressed her disgust to French President Francois Hollande by tweeting "Where are the f*****g police?" and asking if it "is legal for your people to attack visitors."
READ MORE: 'Safer in Baghdad': Courtney Love caught in anti-Uber mayhem, cars set ablaze in Paris
On Friday, Interior Minister Bernard Cazaneuve derided the service for violating an October 2014 law prohibiting people from connecting passengers with unregistered drivers.
Massive disruptions affected the country, as major transport hubs became gridlocked on Thursday, when taxi drivers voiced their discontent with the service.
However, Interior Minister Cazaneuve told RTL radio "We are in a state of law and the law will rule.
READ MORE: France to ban Uber taxi app in 2015
He went on to say "The complaint I filed yesterday is wide enough to cover the statements of UberPOP managers," since, in his opinion, Uber is inciting public disobedience, which is "a criminal offense."
In December of last year, the French government took steps to ban the Uber taxi app starting in 2015. However, a court later ruled that the service could continue to operate. France's constitutional court is expected to make a final decision regarding the issue in September.
Uber's founder, Travis Kalanick, says the system helps both to create jobs and improve the environment. He says the system will create some 50,000 new jobs in Europe and lead to at least 400,000 less cars on the road across the continent, since the low cost of Uber's service will make it more convenient to use taxis than own cars.
You can share this story on social media: