French govt files charges against 'cynical' Uber app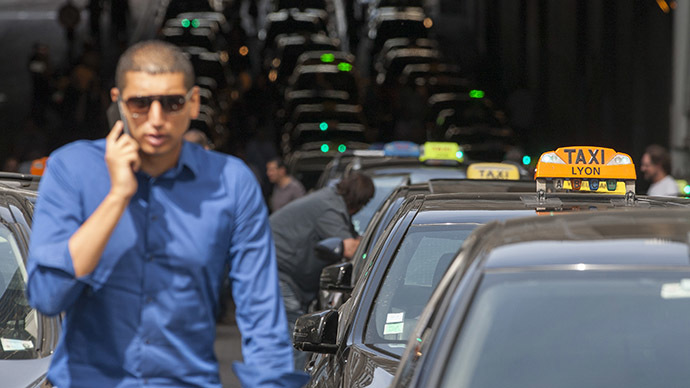 The French interior ministry is filing charges against the Uber ride-sharing service in France for its "cynical" and "arrogant" attitude, following a nation-wide clampdown on the UberPOP mobile app.
The government argues the app's managers are breaking the law. On Friday, Interior Minister Bernard Cazaneuve derided the service for going against an earlier October 2014 law prohibiting people from connecting clients with unregistered drivers.
Massive disruptions affected the country, with major transport hubs gridlocked, after taxi drivers voiced their discontent with the service on Thursday.
READ MORE: '160 euros a pop': Uber launches 'hail' helicopter service at Cannes Film Festival
President Francois Hollande, who is in Brussels trying to negotiate Greece's economic rescue, also weighed in and ordered UberPOP's activities to cease.
Last year's law is being contested by the taxi service, as it believes, according to general manager, Thibaud Simphai, that it "changed nothing" because the service would remain in high demand among the public.
However, as Interior Minister Cazaneuve told RTL radio, "We are in a state of law and the law will rule.
"The complaint I filed yesterday is wide enough to cover the statements of UberPOP managers," he believes. The reason for this is the belief that Uber is inciting public disobedience, which is "a criminal offense."
Uber thinks it's the other way round and that it's the government that is interfering with justice.
The app does, however, put passengers in touch with unregistered drivers, and undercuts ordinary taxis, which has been causing huge discontent in Europe. Drivers in the official system denounce the service as unfair.
As charges were being filed in France, Hungary followed suit and banned any taxi services in the country not rendered by official taxis. Budapest saw hundreds of taxi drivers last week take to the streets in protest.
Late Nirvana front-man Curt Cobain's wife and rock musician Courtney Love was caught in the midst of a Paris-wide protest against Uber on Thursday, which saw riot police using tear gas against people. Taxi drivers burned tires and blocked roads in the capital, with one driver hospitalized after being run over.
READ MORE: 'Unfair competition': Italian court places nationwide ban on lowcost Uber service
There were reports of groups of taxi drivers "hunting down" suspected Uber drivers at Charles de Gaulle and Roissy Airports.
Limousines allegedly operating for Uber were overturned at Charles de Gaulle and Porte Maillot, on the outskirts of the French capital. Other areas of Paris and other cities were also affected, as taxi drivers struck out against unfair competition from the UberPOP service.
The Uber company has been facing large setbacks in Europe, with similar problems in Italy, Germany and Belgium.
The app has already been banned in the Netherlands and Spain, and is appealing bans in France and Germany.
Founded in San Francisco in 2009, the company has operations in some 250 cities across 50 countries.