'Safer in Baghdad': Courtney Love caught in anti-Uber mayhem, cars set ablaze in Paris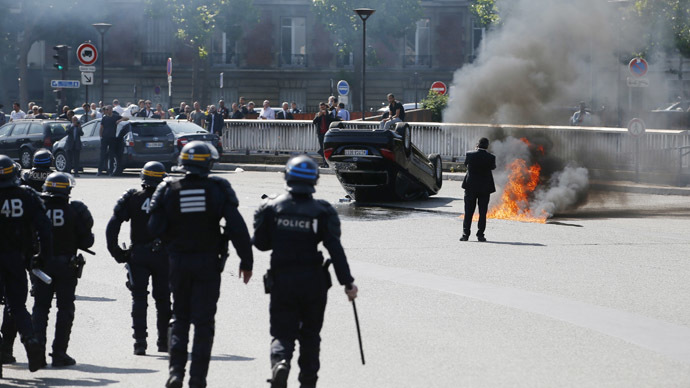 Riot police have deployed tear gas during a Paris protest against the Uber taxi app. Taxi drivers have burned tires and blocked roads in the French capital, citing unfair competition. One driver was taken to hospital after being run over.
There were reports of groups of taxi drivers "hunting down" suspected Uber drivers at Charles de Gaulle and Roissy Airports, the Independent reported. Limousines allegedly operating for Uber were overturned at Charles de Gaulle and Porte Maillot, on the outskirts of the French capital.
Burning tires have blocked part of the ring road around central Paris, and scuffles have broken out between the protesters and other drivers. Riot police intervened at one point, deploying tear gas.
France's Interior Minister Bernard Cazeneuvesided with taxi drivers on Thursday, calling for a nationwide legal clampdown on Uber's ride-sharing service.
American singer Courtney Love has posted a video on Instagram, which shows her inside a taxi as protesters shout and try to open the doors.
how on earth are these people allowed to do this? the first car was destroyed, all tires slashed and beat with bats, these guys trying to open the doors and the cops are doing nothing?? French Taliban? civil reform needed in France?? I want to go home
paid some guys on motorcycles to sneak us out, got chased by a mob of taxi drivers who threw rocks, passed two police and they did nothing

— Courtney Love Cobain (@Courtney) June 25, 2015
In a tweet, she complained to French President Francois Hollande, saying "Where are the f*****g police?" and asking if it "is legal for your people to attack visitors."
they've ambushed our car and are holding our driver hostage. they're beating the cars with metal bats. this is France?? I'm safer in Baghdad

— Courtney Love Cobain (@Courtney) June 25, 2015
The road routes to Charles de Gaulle and Orly Airports have been blocked, forcing passengers to instead take local train services.
"Access by road is completely blocked," airport operator Aeroports de Paris said on its website. "The only way to get to CDG is [by train]."
Some passengers abandoned their cars and walked along the motorway in order to reach the airport in time for their flights.
The demonstrators have also blocked access to Paris' high-traffic Gare du Nord train station, where Eurostar and Thalys train services run to London and Brussels.
Demonstrations are also taking place in other French cities, with cabbies setting up barriers around Marseilles and Aix-en-Provence in the country's southeast, including at key motorway exits.
Access to train stations in the two cities have also been blocked, and protesters have descended on the main access point to Marseilles-Provence airport.
Traffic was also gridlocked in Toulouse, as taxis came to a standstill on the city's roads.
"They hinder us, they try to take our jobs, they try to make the job of taxi driver disappear. You have to know that these people are not registered and work without any regulation," a driver told Ruptly.
The taxi drivers are citing unfair competition from Uber's UberPOP service, which links passengers and drivers through a smartphone app, offering cheaper rates than traditional cabs.
I think Dinosaurs should have protested against their extinction too! #taxi#Parishttp://t.co/6ZXY5p8G1Xpic.twitter.com/8XgDJGa4iL

— Radek Mika (@radekmika) June 25, 2015
Uber has been expanding the app throughout France, provoking anger from licensed taxi drivers. The setup effectively allows passengers to be driven around by anyone, regardless of whether or not they have a professional license.
"We are faced with permanent provocation [from Uber] to which there can only be one response: total firmness in the systematic seizure of offending vehicles," G7 taxi firm head Serge Metz told BFM TV.
"We are truly sorry to have to hold clients and drivers hostage. We're not doing this lightly."
The protest also drew taxi drivers from other parts of Europe.
"This is just the beginning,"said Brian Ghairbhain, who drove his black cab to Paris from London for the protest, as quoted by the Wall Street Journal."Uber hurts us, so we are going to make them suffer just as much. It's a global fight."
This is not the first time Uber has experienced pushback in France. An October 2014 law placed a ban on connecting passengers with unregistered drivers. But Uber has contested the law, saying it is unclear and prohibits the freedom to do business.
"We are furious. The government pledged UberPOP would be banned January 1, we are in June and nothing has happened," said Salahydin Dahaoui, president of Collectif des Taxis Parisiens, a union of taxi drivers.
The case was referred to France's Constitutional Council on Tuesday.
The Thursday protest is just one of many setbacks for the San Francisco-based company, which is worth an estimated $40 billion.
Last month, an Italian court placed a nationwide ban on UberPOP, also citing unfair competition.
Also in May, taxi drivers marched through Mexico City, chanting "Uber Out!" and demanding city authorities ban the service.
Hundreds of Belgian and French taxi drivers brought Brussels to a near standstill in March. One month prior, over 2,000 taxi drivers took to the roads of Turin.
The app has already been banned in the Netherlands and Spain, and is appealing bans in France and Germany.
Founded in 2009 in San Francisco, Uber operates in about 250 cities in 50 countries through its app.