France to ban Uber taxi app in 2015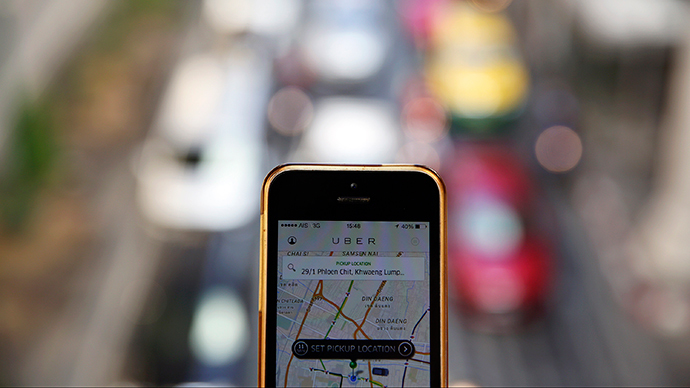 The French government has decided to ban the Uber taxi app in 2015, though a court has stated that the service can continue to practice in the country. The decision follows protests from official taxi drivers who say Uber represents unfair competition.
Hundreds of official taxi drivers blocked the main roads from Paris' Charles de Gaulle airport to the center of the capital on Monday, in a go-slow action to protest against the Uber service, known in France as UberPOP. They claim Uber drivers have an unfair advantage, as they do not need to meet all necessary requirements – including taxes, license, and insurance. The Uber app allows users to share a car with other people, which means the price becomes lower – an attractive incentive for those in need of a ride.
"This is a fight against Uber. We're fed up. Allowing UberPOP means leaving 57,000 French taxis high and dry, and thus 57,000 families. And that is out of the question," Ibrahima Sylla, president of France Taxis, said, as quoted by Business Insider.
Ugh.. I only enjoyed Paris b/c of @uber"@loic: France says UberPop to be banned as irate taxi drivers stall traffic http://t.co/6szUW7aTWv"

— Peter Pham (@peterpham) 15 декабря 2014
The Uber service lets any driver registered in the system pick up passengers using the smartphone app. Since the drivers do not have pay taxes and other fees, the prices paid by passengers are much lower than in traditional taxis.
Soutien inconditionnel pour Uber face au lobby déraisonné des taxis. #uberlove@Uber@Uber_Lille@Uber_Paris@UberLyon

— Milton (@Milton_Brabeck) 15 декабря 2014
The ban is a part of new transport regulation which will come into force on January 1, 2015. Those who break the law can face two years in prison and a fine of €300,000 (US$373,000).
"Currently, people who use UberPop are not protected if there is an accident. So not only is it illegal to offer this service but for the consumer there is a real danger," French Interior Ministry spokesman Pierre-Henry Brandet said.
READ MORE: Uber taxi app gets nationwide Spanish ban
Uber's opponents also mention possible danger for people who use the service, as they do not know whether the driver is trustworthy.
The French court did not stop Uber activity on Friday, but simply ordered that changes be made. It also blamed the service for unfair competition.
Earlier, similar protests were held in Italy and Great Britain, where they were the most violent.
Uber was previously banned in Thailand, the Netherlands and Spain. The Indian capital of New Delhi also barred Uber after a driver was accused of attempted rape.
READ MORE: Uber banned in Indian capital after taxi driver accused of raping passenger