Uber taxi app gets nationwide Spanish ban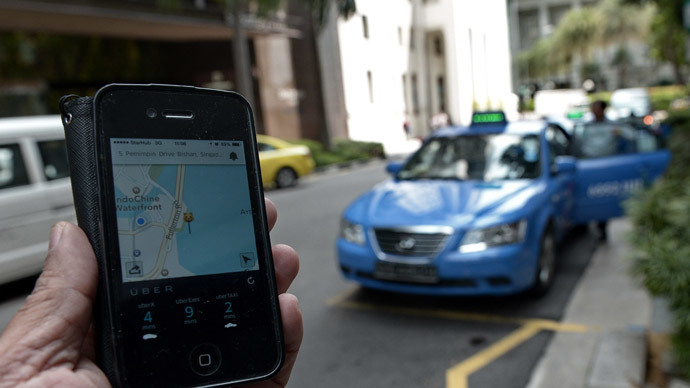 The Uber taxi booking app has been suspended in Spain. An order to cease operations was handed down by a judge on Tuesday after taxi associations claimed it was seizing their business.
The judge who imposed the ban stated that it is temporary. The app was prohibited on the basis that it is "unfair competition" and drivers who were using it to garner business were not officially authorized to be taxi drivers.

Drivers "lack the administrative authorisation to carry out the job, and the activity they carry out constitutes unfair competition," the Spanish court stated after the ruling.

Complaints were made by the Madrid Taxi Association. The league is joined globally by similar associations seeking to restrict Uber's influence for the same reasons.

Uber operates in 250 cities in 50 countries around the world. The San Francisco-based firm is valued at approximately $40 billion. The app allows people to located the nearest available taxi via GPS.

The service has increased six-fold in recent years. However, Uber is still facing challenges. Belgium, Germany, and France have threatened to ban the service due to concerns over the qualification of drivers, and protests from traditional licensed taxi services.

The Spanish ruling comes just one day after Uber was banned by officials in Delhi after a taxi driver allegedly raped a passenger.

READ MORE: Uber banned in Indian capital after taxi driver accused of raping passenger

The same day, the UberPop ride-sharing service was also banned in the Netherlands. Meanwhile, a court in Paris is scheduled to decide on Friday whether the Uber service is unfair competition to taxi drivers.

"Drivers who transport people for payment without a licence are breaking the law," stated a decision from the Hague-based Trade and Industry Appeals Tribunal.

Uber-Pop was a pilot scheme in Amsterdam until September, and has since expanded. The modus operandi of the company is to link customers and vehicles directly through a simple mobile taxi application, rendering licensed taxi companies' prices uncompetitive.