China passes law aiming at 'secure and controllable internet'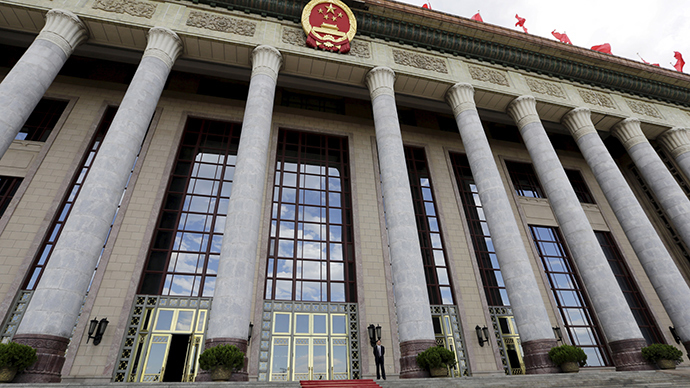 China has passed a new law aimed at promotion of state security and sovereignty on Wednesday. One of the key provisions of the law is expanding state control over the internet.
The National People's Congress (NPC) adopted the document almost unanimously: 154 of 155 NPC standing committee voted "for" and one abstained. That is a comprehensive national law which covers various sectors, including the internet space.
The internet has been declared one of the key priorities of Chinese national policy. China wants to make it "secure and controllable," which raises fears among foreign IT companies, The Guardian reports.
"Internet space within the territories of the People's Republic of China is subject to the country's sovereignty," said Zheng Shuna, a senior official at the NPC, pointing out that the internet is a key part of national infrastructure.
She also emphasized that the new law proposes a legal basis for the management of activities on Chinese territory and resisting actions that pose a threat to Chinese cyber-security. No specific definitions for online crimes and punishments are provided, though.
READ MORE: Chinese cyber-police set up social media presence to better combat 'illegal & harmful' content
Zheng also said China is willing to cooperate with other countries in that sphere to"establish a multilateral, democratic and transparent international internet management system."
China has been making efforts to establish its sovereignty over its domestic internet since the end of the 1990s, when it initiated the Golden Shield Project, also known as Great Firewall of China, which was ultimately introduced in 2003.
Along with the internet China declares space, deep oceans and polar regions sectors of national interest. The People's Republic also wants to replace foreign technologies used by banks, the military, state-owned enterprises and key government agencies with its own ones by 2020, Bloomberg reports.
READ MORE: China to issue 5yr security plan to safeguard state secrets
Zheng stressed that the US, EU, Russia and Japan have similar legislation.
"Any government will stand firm and will not leave any room for disputes, compromises and interferences when it comes to protecting their core interests," Zheng said. "China is no exception."
READ MORE: Beijing finishing land reclamation project in S. China Sea, Japan 'mulls' shooting down drones
The law will not be in force for Hong Kong and Macau, which corresponds with the Chinese principle of "one country, two systems."
"China's national security situation has become increasingly severe," Zheng stated. "We are under dual pressures... Externally speaking, the country must defend its sovereignty, security and development interests, and internally speaking, it must also maintain political security and social stability," she added.
China faces unrest in Xinjiang, protests in Hong Kong, clashes with Washington over cyber-spying and territorial disputes in South and East China Seas.
The new security law is the second document of its type in China. The first one was adopted in 1993 when many current challenges did not exist.