​Beijing finishing land reclamation project in S. China Sea, Japan 'mulls' shooting down drones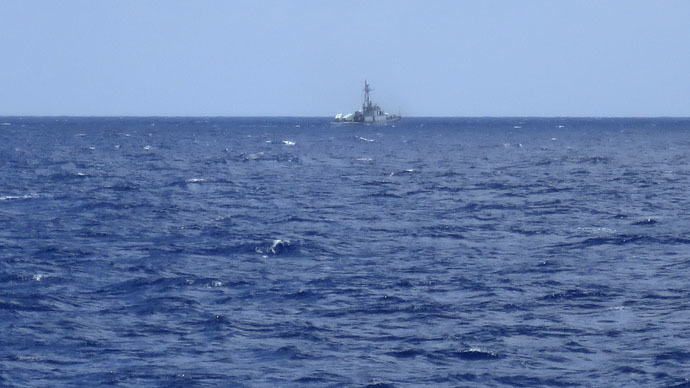 Beijing's land reclamation project at several disputed islands in South China Sea is nearing completion. As China's neighbors and the US voice concerns about the activities, Japan may go as far as shooting down China's drones patrolling the argued waters.
The foreign ministry of China announced on Tuesday that land reclamation projects on the disputed Spratly Islands (Nansha Islands in Chinese) are close to their completion. Beijing is building infrastructure for maritime search and rescue operations, environmental conservation and scientific research.
"The construction activities on the Nansha Islands and reefs fall within the scope of China's sovereignty, and are lawful, reasonable and justified. They are not targeted at any other country, do not affect the freedom of navigation and over-flight enjoyed by all countries in accordance with international law in the South China Sea," foreign ministry spokesperson Lu Kang said.
According to the US data, the Chinese building program on the disputed islands covers more than 800 hectares. Washington and Chinese neighbors are concerned the project will enhance Beijing's control over the territory.
"If we leave any unlawful situation unattended, order will soon turn to disorder, and peace and stability will collapse. I hope and expect all the countries, including China, to behave as a responsible power," Japanese Defense Minister Gen Nakatani said at conference in Singapore over Asia-Pacific security on late May.
China has long-lasting territorial disputes with its neighbors. It laid claim to 90 percent of South China Sea, which is believed to be rich on oil and gas. The cornerstones of the conflict are the Paracel Islands (Xisha in Chinese) which are disputed by People's Republic of China, Taiwan and Vietnam, and the Spratly islands contested by six countries – Malaysia, the Philippines and Brunei in addition to the above. These disputes cause tensions in the region. Thus, on May 21, Chinese military challenged the US navy plane and told it to leave the area.
READ MORE: Beijing rejects US criticism over construction in South China Sea
The Japanese Ministry of Defense is now considering whether to down Chinese drones if China starts to carry out routine patrols over the disputed Senkaku Islands (Diaoyu Islands in Chinese) in the East China Sea, Want China Times daily says quoting Kyodo.
Earlier this year, the Japanese defense white paper called interception of Chinese drones with fighters is the only countermeasure against Chinese drone activities over the Senkakus.
READ MORE: China accuses US of damaging regional stability with Japan defense radar
China deployed its unmanned aerial vehicles in 2013 as a response to increased US military activities in the region. The USA stationed two its RQ-4 Global Hawk drone in Okinawa for the purposes of monitoring China's naval activities. China was also upset at the US positioning an X-band missile defense radar in Kyoto, Japan in October, 2014.
"Some countries have pushed forward anti-missile system deployment in the Asia-Pacific region to seek unilateral security, which runs against regional stability and mutual trust as well as peace and stability in Northeast Asia," Chinese Foreign Ministry spokeswoman Hua Chunying claimed.
According to a Chinese document on the country's use of drones, the China possesses about 50 drones including the ''Yilong'' drone which seems to be the most suitable for monitoring the situation in East China. The South China Daily Post newspaper reported Saturday Beijing is mulling to use the whole fleet for surveillance of the whole disputed area.
You can share this story on social media: