Chinese boss pays for 6,400 employees to go on luxury French vacation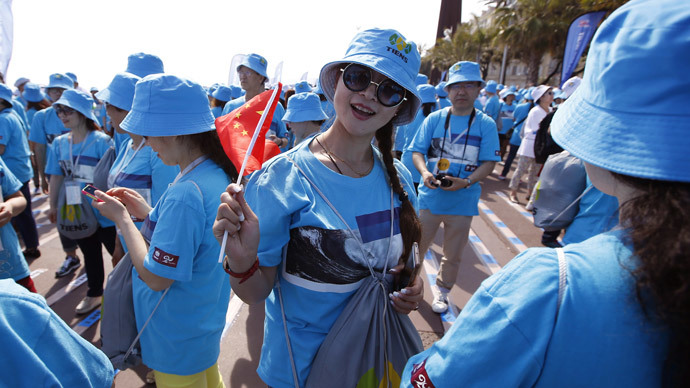 A Chinese billionaire paid for a massive four-day corporate trip to France, covering the costs for over half of his 12,000 employees, to celebrate the firm's 20-year anniversary. The gesture cost the tycoon about $15 million.
READ MORE: 174 million Chinese tourists to spend record $264bn by 2019
The head of Tiens Group Company, Li Jinyuan reserved 140 hotels in Paris alone, Reuters quoted a French Foreign Ministry spokeswoman as saying. The group visited the capital and Cote D'Azur in the south of France.
Another 4,760 rooms were booked in 79 four- and five-star hotels in Cannes and Monaco. At least 146 buses were also rented for transportation.
This was the biggest vacation booking ever in France.
The largest Chinese Corporate Event in Europe is in Nice!!!! 6 400 people!!!! Welcome to Tiens Biotech!!!!!! pic.twitter.com/yr4ToTLol8

— ZEGRE (@NICEACROPOLIS) May 8, 2015
The generosity took social media by storm. The 57-year-old Li is included on the Forbes 2011 list of world billionaires, but this trip is also going to land him in the book of Guinness World Records as well.
In Cote D'Azur, the entire 6,400-strong crowd gathered on Nice's famous Promenade des Anglais dressed in blue and white, their company's corporate colors, and formed a line to spell out "Tiens' dream is Nice in the Cote d'Azur."
The human chain broke the Guinness World Record for the longest phrase visible from the sky.
As for the visit to Paris, it included a private viewing of the Louvre and the Moulin Rouge cabaret show.
Li founded the Tiens Group Company in 1995, and since then it has grown into a huge international conglomerate working in various fields such as biotechnology, health management, e-commerce, and hotel and tourism.
Chinese CEO treats 6,400 employees to four-day French holiday http://t.co/F82820vJStpic.twitter.com/oDVqiv4Dmn

— CCTVNEWS (@cctvnews) May 10, 2015
France welcomed the idea of the colossal corporate getaway with open arms, as tourism accounts for 7 percent of the nation's GDP – around $177 billion. "We have mobilized public services as well as tourism professionals, hotels, restaurants, shops and designer brands," Christian Mantel, head of Atout France, a tourism development agency, told AFP. "So far everything has gone smoothly, the feedback has been extremely positive."
The holiday crowd reportedly spent some $13 million shopping in French stores, partly on luxury goods, according to Euronews. The positive publicity from the lavish mass vacation may also help improve the image of Chinese tourists, notorious for their misbehavior abroad.
Recently, the Chinese government has stepped up measures to increase people's awareness of good manners while on holiday, and even created a black list for travelers accused of extreme rowdiness.
READ MORE: China's hell-raising tourists blacklisted for misbehavior