'Blush with shame': China to register its tourists' misbehavior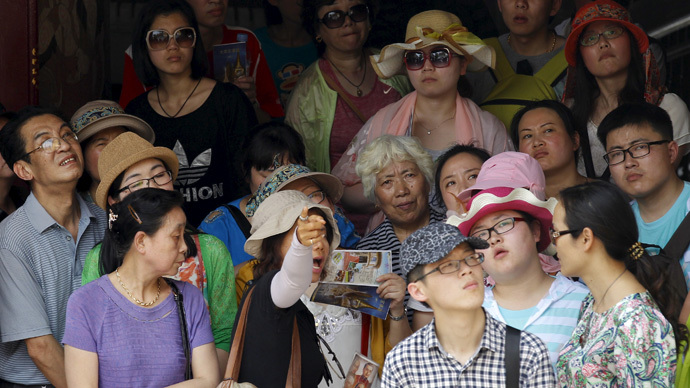 China said it will document its tourists' "uncivilized" behavior including damaging public infrastructure or historical sites for up to two years following several cases which made the country "blush with shame."
The decision to record such cases comes following numerous cases of tourists' misbehavior, including violations of customs, damage to cultural and historical sites, disturbances on public transportation and taking part in gambling and prostitution.
"China's image has already been tarnished," the China National Tourism Administration said on its website, Reuters reports.
For example, in 2013 a Chinese student's behavior caused a public outcry in Egypt because he scratched his name on an ancient temple's wall in Luxor.
Another documented case happened in Hong Kong – when a mainland Chinese couple allowed their two-year-old child to defecate on a sidewalk.
In February, Chinese tourists were caught drying underwear at a Thai temple, kicking a bell at a sacred shrine and washing their feet in a public restroom. This case prompted Thai authorities to issue thousands of Chinese-language etiquette manuals.
Chinese tourism authorities said these actions caused many people to "blush with shame" and that those responsible needed to "learn a lesson," though no specific punishment was announced.
READ MORE: 174 million Chinese tourists to spend record $264bn by 2019
Regulators expect to find out about tourists' bad behavior from local tourism bureaus, media reports and witnesses from the general public.
In recent years overseas travel has flourished from China. In 2012 the UN World Tourism Organization even named Chinese the world's biggest spenders on travel.
Meanwhile, China's media pointed out that it's not only Chinese tourists behaving indecently abroad.
The People's Daily Online published an article that gathered several cases of public misbehavior by non-Chinese tourists. For example, this month two American sisters were arrested for taking nude pictures at a UNESCO World Heritage site in Cambodia, the Angkor temple complex. They were fined 1 million Cambodian riel ($250) and given six-month suspended jail terms.
Another incident described in the article took place in 2009, when a group of foreigners were caught camping on the Great Wall of China, a practice that is prohibited.
Foreigners also littered, walked on precious monuments, swam in no-swim areas and climbed trees, the article said.