China's hell-raising tourists blacklisted for misbehavior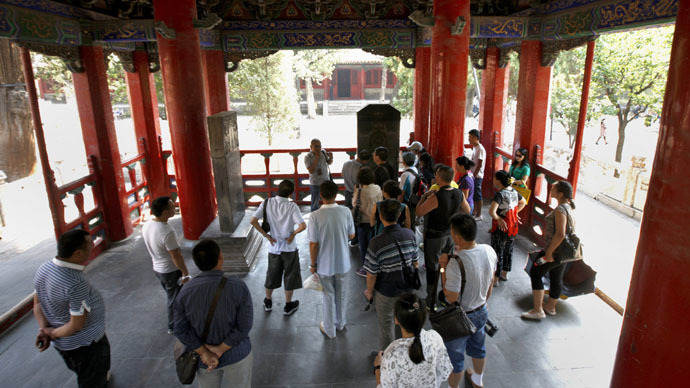 With an increasing number of Chinese in the financial position to enjoy a vacation either at home or abroad, Beijing is enforcing measures to ensure that holidaymakers don't get out of control, harming China's reputation abroad.
In December 2014, Zhang Yan, a Chinese passenger on a China-bound Thai aircraft, insulted a flight stewardess and tossed instant noodles in hot water at her, prompting the pilot to turn the aircraft around and return to Bangkok. Both she and her travel companion were removed from the flight.
In the same month, a first-time air traveler aboard a Xiamen Air flight from Hangzhou to Chengdu forcibly opened the emergency door before departure to "get some fresh air."
READ MORE: Early exit? Chinese first-time flyer opens plane emergency door
In yet another incident of Chinese tourists behaving badly, 18-year-old Li Wenchun climbed atop a statue of a Red Army soldier in Yanan and was photographed sitting on the head of the revered memorial. Images of the scene quickly made the rounds on Chinese social media, causing Mr. Li much grief among his countrymen.
These four misguided Chinese tourists are the first to be blacklisted for their embarrassing antics, methodically outlined in China's 64-page Guidebook for Civilized Tourism. The program allows government officials to blacklist individuals for unruly or illegal behavior while on vacation.
The program, which went into effect in April, is designed to ensure that tourists from the most populated nation in the world don't become hooligans on holiday, thus embarrassing the proud Asian nation of over 1 billion people.
Although no concrete punishments have been announced, traveling troublemakers will be reported to police, customs, border guards, transportation and credit agencies, while vacation plans may be affected within a specified period of time.
READ MORE: Drunk honeymooner threatens to 'kill everyone on board' flight, causes emergency landing
Chinese tourists, the numbers of which have exploded following China's economic resurgence, now enjoy the disposable income to travel both at home and overseas.
However, this newfound freedom has come at a cost as the Chinese are now the target of international criticism regarding some of their alleged bad behavior, including, but not limited to, spitting, public smoking and littering.
Just this month, tourists at Huaqing Pool in Xi'an city, a popular tourist destination, were photographed fondling the breasts of a statue of Yang Guifei, the wife of Tang Dynasty Emperor Xuanzong and one of the Four Beauties of Ancient China.
The images landed on social media, where some users said the Chinese visitors acted disrespectfully.
You can share this story on social media: