Early exit? Chinese first-time flyer opens plane emergency door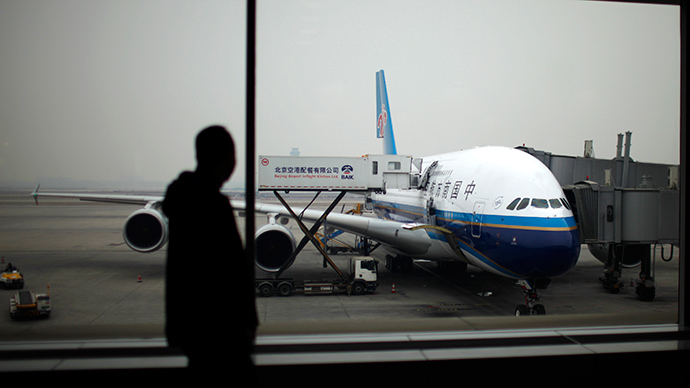 A Chinese first-time flyer has opened an emergency door in a plane to get some fresh air. Luckily, he did not cause any harm, and the offense is being treated leniently compared to previous incidents aboard Chinese planes.
A man in his 50s on a Xiamen Air flight from Hangzhou to Chengdu on Sunday opened the emergency door of a plane before departure.
READ MORE: Drunk honeymooner threatens to 'kill everyone on board' flight, causes emergency landing
"It's my first time seeing a passenger open the safety door. He told the attendants he just wanted some fresh air ... hope our flight won't be delayed for too long," a passenger wrote online, The South China Morning Post reports.
Want some fresh air? Open the emergency exit. Xiamen Airlines, China today. pic.twitter.com/LEZ9m9J77Y

— PJ de Jong (@jong_pj) 15 декабря 2014
Fortunately, the exit was just above a wing and no inflatable chute was deployed. So the flight attendants were able to fix the door and proceed with the take-off. However, they placed the man in another seat, as far from emergency exits as possible.
The airline officials said they had no intentions to inform the airport police to penalize the man.
"He did not cause delays or any other direct losses to the airline," an employee told the Southern Metropolis Daily newspaper.
READ MORE: Booze and lose: MP pressure for Russia to ban in-flight alcohol sales
However it is not the first case of misbehavior in Chinese domestic flights.
Last week a man on flight from Xi'an to Sanya used an emergency exit "to get off the plain quicker," he told the police. The inflatable chute was deployed and that caused a delay of the plane's next take-off by two hours. Besides, the airline company will have to check and fix emergency chute and door. The cost of the work is reportedly over $16,000.
Passenger opens emergency exit and uses slide 'to get off plane faster' in Hainan airport http://t.co/lYFA3P9YVApic.twitter.com/KBDNC7ubvU

— STOMP (@stompsingapore) 16 декабря 2014
On Friday, the plane flying from Bangkok to Nanjing had to come back to Bangkok after a woman threw a cup of noodles in boiling water at a flight attendant while her friend threatened to blow up the plane.
These cases have caused great consternation in China, as people fear such behavior in international flights is spoiling the image of the country. The China National Tourism Administration pledged that the Chinese involved in such cases would be punished and their names would be put in a special list of travellers causing trouble.
You can share this story on social media: