'Make migrants work for free': Italy's minister comments triggers social media frenzy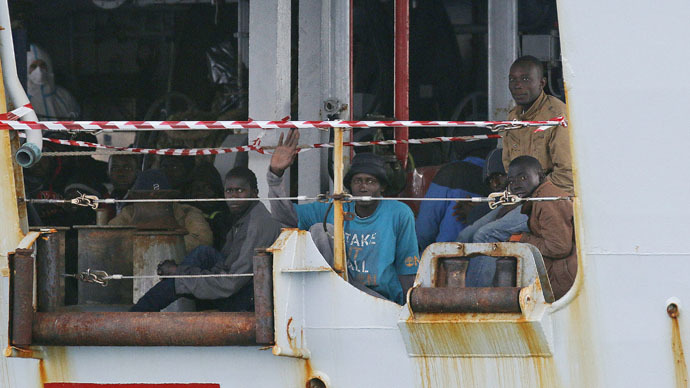 Asylum seekers in Italy must work for free rather than do nothing, believes the interior minister. His statement created a social media frenzy, with some users saying it would be going back to the times of slavery.
"We must ask the municipalities to apply our directive and make migrants work for free... Rather than leave them with nothing to do, they should make them work," Angelino Alfano said, cited the Italian media.
His ideas were echoed in a statement from the Interior Ministry's civil and immigration rights chief Mario Morcone, who said that the migrants should be working for "the public good," such as for environmental projects. Thus, they will only have to need to cover for their insurance.
"The idea is to create a better rapport, and more acceptance" in society, he said on Italian TV.
Until they are officially recognized as refugees, asylum seekers have no right to work in Italy.
READ MORE: No place for asylum seekers: EU reportedly plans to kick out 29 of every 30 refugees
Social media users have criticized Alfano's statement, with some saying the country is going back to the dark times.
"[Angelino] Alfano proposes immigrants to work for free. Virtually proposes the return of slavery," wrote @bartolodragano.
#Alfano propone #immigrati al lavoro gratis. Praticamente propone il ritorno della schiavitù. @angealfapic.twitter.com/PHnDqyR7q5

— Berto Dragano (@bartolodragano) May 8, 2015
"Well it makes sense, exploiting poor people to [Angelino Alfano] is called to give them dignity," wrote user AleChickmaster.
Beh ha un senso, sfruttare la povera gente per @angealfa si chiama dare loro dignità. Nuovo termine coniato: gli #immigratis

— Alessandra Sicilia (@AleChickmaster) May 8, 2015
"To work for free migrants" Alfano is the most stupid politician that ever appeared in the history of the Republic," said Superetero.
"Far lavorare gratis i migranti" #Alfano è il politico più cretino che sia mai apparso in tutta la storia della Repubblica

— Valmont (@Superetero) May 7, 2015
READ MORE: Migrant lives matter! Protesters target European Commission after 800 drowned
The statement from Alfano comes amid growing tensions in Italy over a massive inflow of asylum seekers from African countries, mostly from Libya.
On Wednesday Valle d'Aosta, a region in northwest Italy refused to take more asylum seekers. Earlier Lombardy and Veneto refused emergency accommodation to migrants, after a request was submitted by the Interior Ministry.
READ MORE: 'We don't want an invasion': Second Italian state refuses ministry request to house migrants
Rome has on numerous occasions said it barely has enough resources to deal with the migrant crisis. The situation is becoming an EU-wide concern, with Brussels facing mounting pressure from human rights groups over its tackling of the migrant influx from across the Mediterranean.
UN repeatedly condemned the treatment of asylum seekers in Italy, describing it as "unacceptable."
About 50,000 refugees have entered Europe by sea this year, with some 30,000 coming via Italy. The latest UN figures claim that around 1,800 people have drowned this year crossing to Europe from Libya.
READ MORE: 6,800 migrants recovered from Mediterranean in 48 hours
On Monday almost 6,800 migrants were picked up from Mediterranean waters over the weekend, Italy's coastguard said, in what has become the biggest rescue operation this year. At least 10 people died as thousands attempted to cross from Libya.
READ MORE: Over 800 migrants dead in Libya shipwreck disaster – UN
Italy has a high level of illegal immigration. The wave of migrants from Africa have intensified since the EU and US-led military campaign that resulted in the ouster of Muammar Gaddafi in 2011 in Libya and left the country in shambles. The asylum seekers come from several different countries.
READ MORE: Thousands of lives 'at risk' as Italy scales down migrant sea rescue op
Following the disaster Australian Prime Minister Tony Abbott, who also struggles with the issue of asylum seekers, advised Europe to follow suit and do what he did – turn back migrants' boats.
French President Francois Hollande also proposed to seek a UN resolution that would give a green light to the EU to destroy boats used by traffickers to transport migrants to Europe.
Similar thoughts came from Britain's Lord Ashdown who said that "there may also be a case for using special forces of interdiction to destroy the boats before they leave port."
You can share this story on social media: