Over 800 migrants dead in Libya shipwreck disaster – UN
Published time: 21 Apr, 2015 04:46
Edited time: 21 Apr, 2015 07:16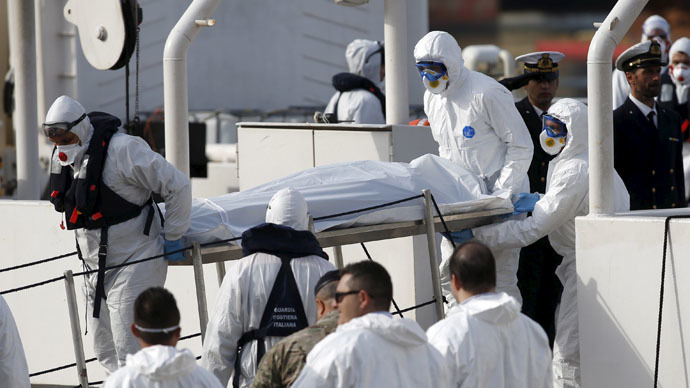 More than 800 people have been confirmed missing or dead by the UN refugee agency in the latest Mediterranean Sea disaster involving migrants fleeing Africa through Libya. Critics say European countries must face responsibility for the crisis.
"We can say that 800 are dead," spokeswoman for the United Nations High Commissioner for Refugees in Italy, Carlotta Sami, was quoted by AFP on Tuesday.
The confirmation came after most of the 27 known survivors of the shipwreck were interviewed.
"There were a little over 800 people on board, including children aged between 10 and 12. There were Syrians, about 150 Eritreans, Somalis... They had left Tripoli at about 8am on Saturday," Sami said.
The survivors, who hoped they would be smuggled into Europe from the unsettled region, said there was a stampede at the trawler they were sailing in after a Portuguese merchant ship approached the vessel. The trawler capsized, drowning hundreds of people.
Speaking to RT, Abayomi Azikiwe, editor of the Pan-African News Wire, decried the conditions the migrants had to endure on "rickety and unstable vessels."
"Many of these people were locked into the vessels and were not allowed to move around and were unable to seek some assistance from larger vessels that flow in the Mediterranean," he said.
The Italian Coastguard has so far confirmed recovering only 24 bodies.
The survivors are said to have been taken to holding centers, while at least two – a Tunisian and a Syrian – were reportedly arrested on suspicion of being members of the smuggling gang responsible for the deadly boat trip. One survivor was taken to a Sicilian hospital.
The EU has been facing mounting pressure from human rights groups over its tackling of the migrant crisis in the Mediterranean. Activists are calling for immediate action by EU member states and urge the countries that took part in the military campaign against the ousted Libyan ruler Muammar Gaddafi to take responsibility for their actions.
READ MORE: EU under fire over migrant crisis after deadly boat capsize
Azikiwe said that around 2 million people were displaced following a "campaign of destabilization and regime change in Libya," which was implemented by "the Pentagon and NATO."
"The culpability for this is being shirked by other European powers. They are leaving it to the countries of southern Europe, which have less resources than for example Germany or France or Great Britain, which actually had a larger role in the destabilization and the overthrow of the Gaddafi government in Libya during 2011," Azikiwe told RT.
An extraordinary summit of EU leaders was called on Thursday by European Council President Donald Tusk to discuss a joint response to the massive influx of migrants. EU foreign policy chief Federica Mogherini on Monday said that "the EU has no more excuses, the member states have no more excuses," referring to the situation with the African migrants.
The European Union will meet at an emergency summit on Thursday in Brussels to address the issue.