6,800 migrants recovered from Mediterranean in 48 hours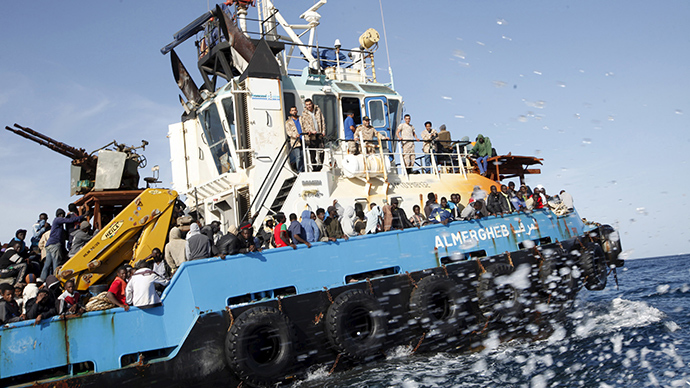 In what has become the biggest rescue operation this year, almost 6,800 migrants were picked up from Mediterranean waters over the weekend, Italy's coastguard said. At least 10 people died as thousands attempted to cross from Libya.
The massive search operation involved three separate rescue missions, Italy's coast guard said. In one rescue, an Italian Coast Guard helicopter helped to save dozens of migrants aboard a deflating dinghy. One recovery operation saved 311 people, including 16 children, from a fishing boat.
READ MORE: Over 800 migrants dead in Libya shipwreck disaster – UN
A tug, a merchant ship, and a cargo vessel all aided parts of the rescue effort. In one rescue a cargo ship found a dinghy in the waters north of Tripoli containing three dead migrants and 105 survivors. Seven further bodies were found on two large rubber boats packed with migrants.
Those rescued were taken to the islands of Lampedusa and Trapani, Sicily.
Among the rescued was a woman in labor on one of the 34 vessels, found by the Italian Navy, Reuters reported. Later, a photo of a newborn girl emerged online, and, according to a navy statement, "Both mother and daughter are in good health."
The record rescue operation comes two weeks after the worst shipwreck this year, which claimed the lives of nearly 900 refugees trying to reach Europe.
Meanwhile a Libyan news agency reported that authorities detained 500 migrants in five boats off Tripoli. Another 480 migrants, some from Sudan, Somalia, Eritrea and Ethiopia, were caught in the central town of Jufra as they prepared for their crossing. Another 170 were detained nearby.
An estimated 50,000 refugees have entered Europe by sea this year, with some 30,000 coming via Italy. The latest UN figures claim that around 1,800 people have drowned this year crossing to Europe from Libya.
READ MORE: No place for asylum seekers: EU reportedly plans to kick out 29 of every 30 refugees
Italy has on numerous occasions said that it barely has enough resources to deal with the migrant influx from Libya. The situation is becoming an EU-wide concern, with Brussels facing mounting pressure from human rights groups over its tackling of the migrant crisis in the Mediterranean.
Meanwhile the leader of France's National Front, Marine Le Pen, was quoted on Sunday as saying that France should send migrants back so "traffickers know that no migrant will come ashore on our coasts." Le Pen's comments came after a French patrol boat on Saturday rescued 217 migrants from three rubber dinghies.