Thousands of lives 'at risk' as Italy scales down migrant sea rescue op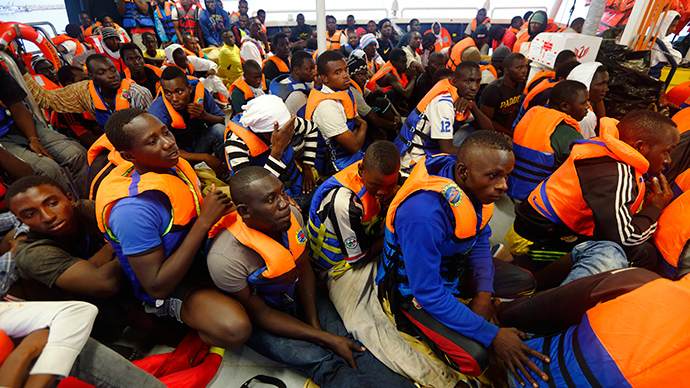 Italy has ended its year-long operation Mare Nostrum, which has saved more than 150,000 migrants making the dangerous sea crossing from North Africa to Europe. It comes as the EU takes responsibility for a more modest rescue operation.
READ MORE: 'Shameful': Rights groups slam UK scrapping of Mediterranean migrant rescues
Rome has ignored the pleas of the UN High Commissioner for Refugees (UNHCR) and other aid agencies which are concerned that the end of Mare Nostrum, which means 'Our Seas,' will result in an increase in the number of migrants dying at sea.

"From tomorrow a new operation called 'Triton' begins. Mare Nostrum ends. Italy has done its duty," said Angelino Alfano, Italy's deputy prime minister and interior minister.

Triton will be managed by the EU's border agency, Frontex, and will cost a lot less than Mare Nostrum, at three million euros a month compared to nine million. Cost is one of the main reasons why Italy decided to pull the plug on Mare Nostrum, which has cost 114 million euros since it was launched in October last year.

Italy said it will abide by the laws of the sea, which means that if a ship sees that a boat full of migrants is in trouble, those on board must rescue them. But unlike Mare Nostrum, Triton will only take place in EU waters.

"We will do our job in our waters and we will help people if there are requests, according to the laws of the sea. At 30 nautical miles from the Italian coast, Europe ends. We'll be there up to that point," said Alfano.

But the UNHCR and other aid groups are "very worried" that Triton will not be enough.

"A proper search and rescue mission needs to be maintained, otherwise people will continue to die," said William Spindler, a spokesman for the UNHCR.

The heads of Amnesty International Italy, Italian agency Asgi, and Doctors Without Borders have written an open letter demanding that Mare Nostrum be continued.

"With no safe alternative ways today to seek international protection in Europe, sea crossings are the only option for thousands of people, victims of violence and torture, disabled people, women and children," the letter said.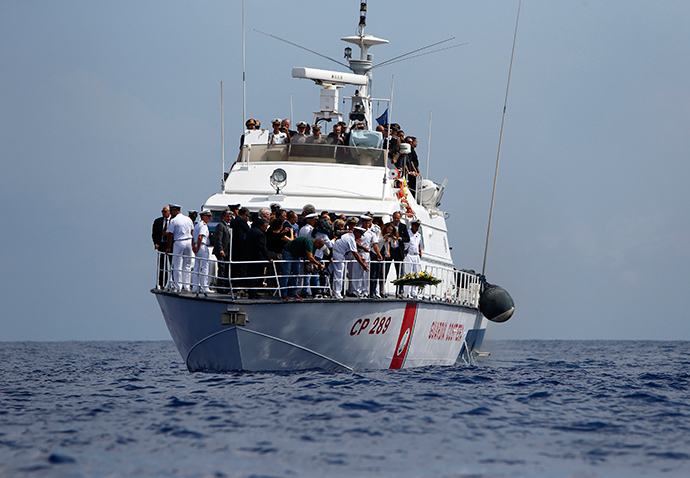 "Search and rescue missions limited to Italy's territorial waters put at risk thousands of lives if the areas of open sea are not actively patrolled," the letter continued.

Meanwhile, others have suggested that Mare Nostrum was in fact acting as a "pull factor" and encouraging more migrants to make the dangerous journey.
READ MORE: 'Fatal Journeys': 1,000s of migrants die each year traveling to richer states, watchdog says
UK immigration minister James Brokenshire warned on Thursday that the operation had encouraged people traffickers to put "more vulnerable people in unseaworthy boats on the basis that they will be rescued and taken to Italy."

British Foreign Office minister Baroness Anelay went further, telling the House of Lords that the rescue operation meant more people would lose their lives.

"We believe that they create an unintended pull factor, encouraging more migrants to attempt the dangerous sea crossing and thereby leading to more tragic and unnecessary deaths," she said.

But these claims have been rubbished by the UNHCR.

"You can't say that the increase in numbers of people is a consequence of Mare Nostrum. In fact it's the opposite. Mare Nostrum came as a response to the dangerous conditions in which people were travelling across the Mediterranean," Spindler told in reporters in Geneva.

But even Mare Nostrum was not fail safe; 3,200 people have drowned making the voyage so far this year.

Aid agencies have also warned the number of refugees making the dangerous crossing is likely to increase due to the conflicts in Libya, Syria, and Iraq, as well as instability in the Sahel and Somalia.

Triton will consist of six ships, two airplanes, and one helicopter. It will operate from bases on the Italian island of Lampedusa and Porto Empedocle on the Sicilian coast. Equipment has also been pledged by countries other than Italy – including France, Finland, the Netherlands, Spain, Portugal, and Iceland, which is not in the EU.
READ MORE: 700 migrants feared drowned, traffickers 'deliberately sink' boat