'Shameful': Rights groups slam UK scrapping of Mediterranean migrant rescues
Published time: 28 Oct, 2014 15:08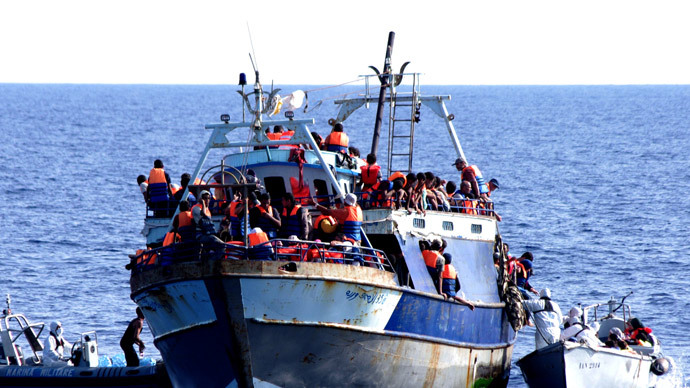 The UK will end its support for search and rescue operations of migrants encountering difficulty while illegally crossing the Mediterranean Sea, the Foreign Office has announced. Migrant rights groups have called the move 'shameful.'
Foreign Office minister, Baroness Anelay, said operations to save migrants when their overcrowded or rickety boats get into trouble or capsize could encourage more people to try to make the dangerous journey to Europe.
In a House of Lords written answer, Lady Anelay said these rescue operations create an unintended "pull factor" and would encourage more migrants "to attempt the dangerous sea crossing and thereby leading to more tragic and unnecessary deaths."
"The government believes the most effective way to prevent refugees and migrants attempting this dangerous crossing is to focus our attention on countries of origin and transit, as well as taking steps to fight the people smugglers who willfully put lives at risk by packing migrants into unseaworthy boats," she added.
The British Refugee Council said the UK government's decision to "withdraw help" will lead to more people "needlessly and shamefully dying on Europe's doorstep."
On the day Sir Winton is commended for rescuing refugee children during the Holocaust, UK Gov turns blind eye to refugees dying in the Med.

— Refugee Council (@refugeecouncil) October 28, 2014
The council's chief executive Maurice Wren said: "The British government seems oblivious to the fact that the world is in the grip of the greatest refugee crisis since the Second World War.
"People fleeing atrocities will not stop coming if we stop throwing them life rings; boarding a rickety boat in Libya will remain a seemingly rational decision if you're running for your life and your country is in flames.
"The answer isn't to build the walls of fortress Europe higher, it's to provide more safe and legal channels for people to access protection."
This comes as Mare Nostrum, the Italian mission to search for and rescue migrants, will come to an end this week.
About 150,000 migrants, most of them from northern Africa and the Middle East, including Syria, have been rescued over the past 12 months by Italian ships.
This year alone, 3,072 migrants have drowned as they desperately attempted to get to Europe in the hope of a better life, according to the International Organization for Migration.
READ MORE:Asylum hell: Italy struggles to deal with migrant influx
A series of disasters off the islands of Lampedusa, in which 500 migrants drowned in just a few days in October 2013, have raised awareness of the risks posed by such journeys.
Since 2000, around 22,000 migrants have died while trying to cross the Mediterranean Sea.
Instead of rescue missions, a new limited European Union border security operation will be launched on November 1, called Triton.
The United Nations Refugee Agency (UNHCR) called on Europe to step up "credible, legal alternatives" to dangerous journeys.
Spokesman William Spindler said, "The level of desperation among many of those involved, fleeing war, persecution and violence, including from Syria require our concerted efforts to respond."
The UNHCR said it was "critical that the long-established tradition of rescue at sea is upheld."