'Fatal Journeys': 1,000s of migrants die each year traveling to richer states, watchdog says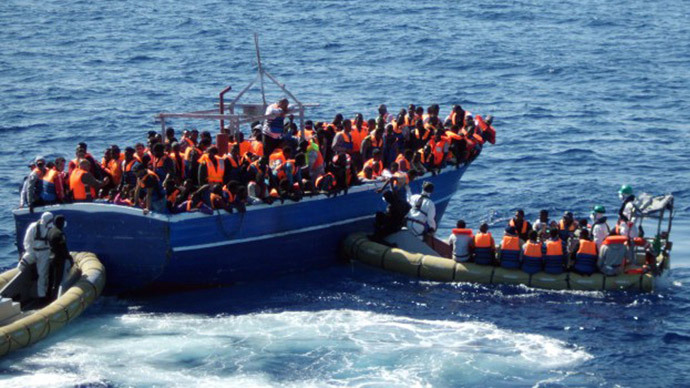 An average of eight migrants a day have died seeking safe haven in more affluent states over the past 14 years, a comprehensive new report reveals. The majority of them were attempting to travel to Europe.
The Report, "Fatal Journeys," was published Monday by the International Organization for Migration, an intergovernmental organization based in Geneva.
The IOM estimates that since 2000, 40,000 migrants have died in what it called "an epidemic of crime and victimization." An estimated 4,077 people died this year alone in what could signal a sharp escalation of the problem.
IOM director general William Lacy Swing did not mince words in demanding that world governments take immediate action to tackle the pressing issue.
"Our message is blunt: migrants are dying who need not," she said. "It is time to do more than count the number of victims. It is time to engage the world to stop this violence against desperate migrants."
The Mediterranean accounts for a staggeringly high number of those deaths, which "reflects a dramatic increase in the number of migrants trying to reach Europe." Of the 40,000 to die over the past 14 years, 22,000 died en route to Europe.
Recent events in the Middle East have only fueled the dash for Europe. According to the IOM, more than 112,000 "irregular migrants" were detected by Italian authorities during the first eight months of this year – nearly a three-fold increase over the whole of 2013.
Another 6,000 migrants are believed to have perished along the US-Mexico border. Meanwhile, 3,000 deaths are estimated from Africa's Sahara desert and the Indian Ocean.
The real numbers, however, are likely to be much higher than the figures documented in its report, the IOM said.
The Fatal Journeys report "uses statistical data compiled by governments and other agencies, but collecting data on migrant deaths has never been a priority for most governments around the world," says IOM's head of research, Frank Laczko.
"Although vast sums of money are spent collecting migration and border control data, very few agencies collect and publish data on migrant deaths," he said.
The research behind Fatal Journeys, which runs to more than 200 pages, was prompted by the October 2013 tragedy in which more than 400 migrants died in two shipwrecks near the Italian island of Lampedusa.
A similar scenario played out earlier this month, when upwards of 700 migrants fleeing Africa and the Middle East are believed to have drowned in shipwrecks in the Mediterranean. In the most haunting incident, up to 500 migrants, including Syrians, Palestinians, Egyptians, among them an estimated 100 children, died after their boat sank off Malta's coast.
The 11 known survivors said the traffickers handling their perilous crossing deliberately scuttled the vessel.
"The paradox is that at a time when one in seven people around the world are migrants, we are seeing an extraordinarily harsh response to migration in the developed world," said Swing, the IOM director general.
"Limited opportunities for safe and regular migration drive would-be migrants into the hands of smugglers, feeding an unscrupulous trade that threatens the lives of desperate people. We need to put an end to this cycle. Undocumented migrants are not criminals. They are human beings in need of protection and assistance, and deserving respect."