'More interesting with breasts': Female reporters slam sexist French politicians
Published time: 6 May, 2015 10:26
Edited time: 6 May, 2015 11:27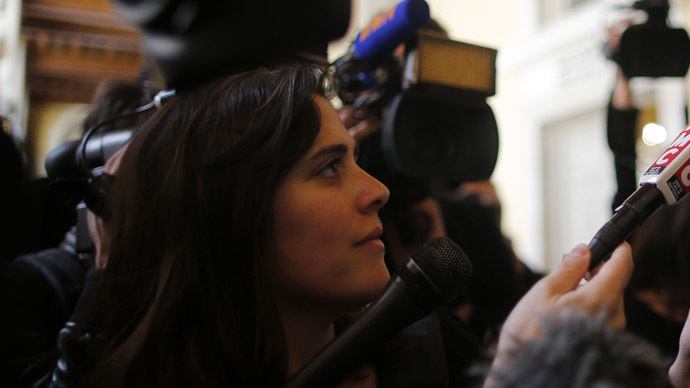 40 French female reports have launched a petition calling for an end to "roving hands" and "lewd remarks" and slamming the sexist behavior of French politicians.
The petition has been published in the newspaper Liberation, and the journalists say they are fed up with male politicians' attitude from all political parties, of both the left and the right. Many other French politicians, younger ones in particular, behave respectfully towards women, they say.
One of the journalists recalls waiting in the National Assembly hall, where MPs issue press statements, and was told, "Ah, but you're on the game, hustling for a client."
Another reporter tells how a member of parliament ran his hands through her hair, explaining the gesture as "spring is in the air."
A minister's adviser once asked the same journalist if she was "tanned all over" after her return from vacation.
READ MORE: 'Ma petite': 80% of French women face sexism in workplace
The journalists also said that a "friend of the president" said that journalists are "much more interesting when they have big breasts."
Also, a political spokesman reportedly took pictures of sleeping reporters on the plane during the latest presidential campaign.
The journalists also speak about persistent texts, offering information for going out to grab drinks, for late-night meetings, or just getting to a hotel "for a bit of fun."
An official only stopped when a journalist warned him she would press sexual harassment charges against him.
In response, French male politicians provide excuses that their behavior is nothing but "saucy fun," and represents "the art of seduction à la française," according to the petition.
"The fact that these practices – which mirror those that happen every day in the street, factories and offices – involve elected officials charged with devising policy, leads us to denounce them," the petition states.
READ MORE: French 'Boys in Skirts' campaign engenders conservative backlash
The journalists express their disappointment at the fact that nothing has changed since the resignation of the notorious IMF chief Dominique Strauss-Kahn in 2011.
Strauss-Kahn was accused of sexually assaulting a maid in a New York hotel, but the case didn't go to trial due to a lack of evidence.
During the case, journalist Tristane Banon came forward with a claim that Strauss-Kahn had attempted to rape her in 2002.
In mid-2013, French prosecutors declared that Strauss-Kahn was to stand trial on allegations of "aggravated pimping" at the Carlton hotel in Lille. The case is ongoing.
"We thought that the DSK case had shifted the line and that chauvinist attitudes were on the verge of extinction. Alas!" the petition says.
READ MORE: 'Your turn to be f**ked!' FEMEN attacks ex-IMF chief at his trial for 'aggravated pimping'
Some senior French politicians and political journalists have had high-profile relationships in recent years. Valerie Trierweiler and the current president, Francois Hollande, met each other when she was covering the Socialist Party for Paris Match magazine, and former president Nicolas Sarkozy dated Anne Fulda, political reporter for Le Figaro.
In their petition, the journalists don't disclose the names of the politicians in question. Of the 40 reporters who signed the petition, 24 of them – including some from Le Monde and Le Parisien – revealed their identities, but the other 16 preferred to stay anonymous, citing a "complicated professional situation."
Sexist attitudes in the French politics don't end there: a couple of incidents happened in the French parliament itself. In 2012 Cécile Duflot, the then-Green housing minister, was wolf-whistled at when she made a speech wearing a floral dress.
And in another episode, Socialist MP Bernard Roman asked Marisol Touraine, the health minister, if she knew the difference between anal and vaginal orgasm, and went on to say, "Give me two minutes, and I'll explain."
Touraine threw a glass of water in his face, but MPs chanted: "Marisol, two minutes."