French 'Boys in Skirts' campaign engenders conservative backlash
The 'Lift the Skirt' campaign encouraging French schoolboys to show up to class in traditionally female attire has incited a tense counter protest from conservative groups.
Up to 200 members of the 'Manif pour Tous' (Protest for All) group assembled outside the gates of the Lycée Clémenceau school in the city of Nantes in western France on Thursday afternoon.
Manif pour Tous protesters carried placards with slogans reading "gender theory is not my choice" and "no to gender theory," France 24 reports.
Tensions flared after a group of around 100 students and left-wing campaigners began chanting "no fascists in schools" and "equality", according to AFP.
Eggs were thrown at the Manif pour Tous protesters, while several scuffles broke out before the protesters were finally dispersed.
The idea to swap trousers for skirts in a stand against sexism was thought up by the students themselves, and later received the blessing of the school authorities and the Ministry of Education.
Those who chose not to bare their legs had the option of wearing a sticker which says, "I am fighting against sexism, are you?"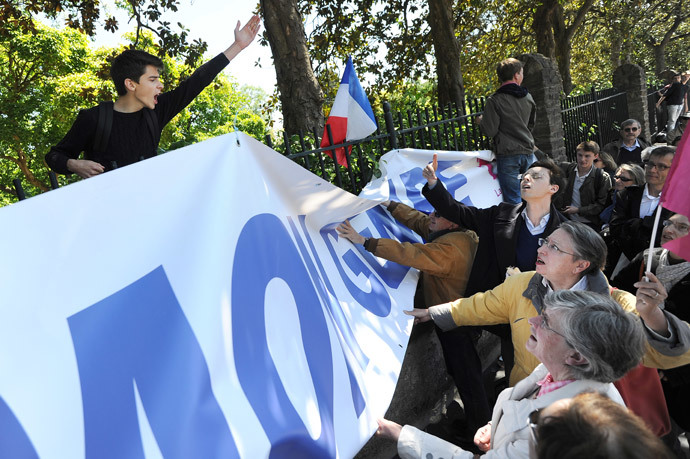 Although the campaign was staged in 20 schools last year, the anti-sexism initiative was seized upon by Manif pour Tous.
French political activist and former Manif Pour Tous leader Frigide Barjot shared the campaign's press release on Twitter, and asked the country's minister for education, Benoit Hamon, if girls should be wearing beards – a reference to Conchita Wurst, the bearded Eurovision winner.
Right-leaning French daily Le Figaro ran a headline on its website claiming that education authorities in Nantes were "demanding" that boys wear skirts to school.
Although the newspaper later corrected its text to say the schools was "inviting" male students to dress up in skirts, many conservative politicians and activists had pounced on the wedge issue.
Manif pour Tous described the initiative as "scandalous" and called for the French Education Minister Benoît Hamon to intervene and cancel the event immediately.
"It is not a trivial matter," the group's president Ludovine de La Rochère said. "It is a form of cross-dressing and is therefore a denial of the boys' sexual identity," she continued. "It is disrespectful to masculinity and femininity."
Many students were angered that adults had attempted to promote their own agendas on the back of the student-led initiative.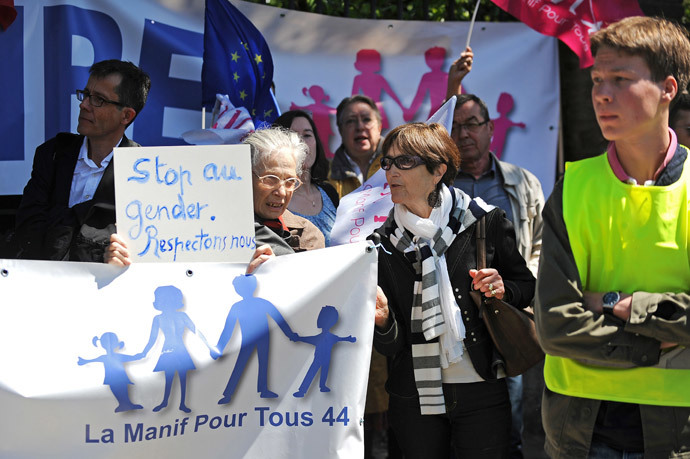 "They have no right to come to our lycee and hijack our idea," Laurine, a student, told the French language news website 20 Minutes.
"You can protest against sexism without having the intention to promote gender theory. That has nothing to do with the original issue and aim of this demonstration," said another.
Gender theory is the belief that children's gender identify is mutable, and not fixed at birth.
Around 30 boys came to school in skirts on Thursday, with more expected to follow on Friday.
"It's weird, it's a little cold, but it was important for me to wear this symbol," said Maho, another student. "I'm doing it to show that there is sexism in high school and there is still some way to go in the fight against discrimination. I was a little hesitant at first, but when I saw the demonstration against the operation Thursday, it was a no-brainer…we have even more incentive to act."
French writer Christian Combaz told RT that this is not about promoting tolerance but is an attempt to "make a political point at school."
"That is obviously not a joke. They are trying to lecture people and we are kind of fed up. "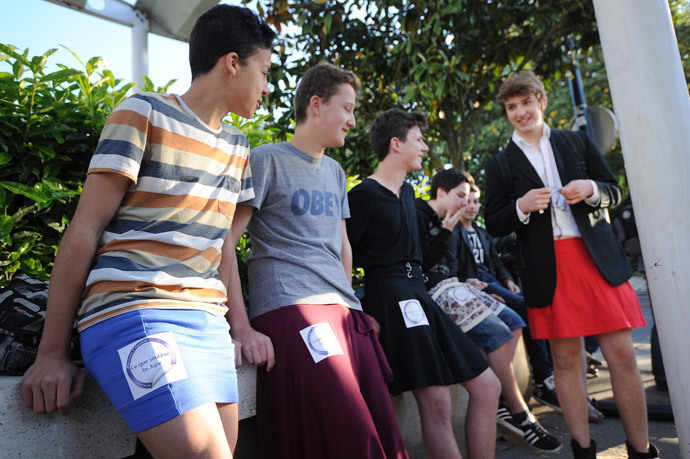 You can share this story on social media: