Over 100,000 French protesters rally against gay marriage, adoption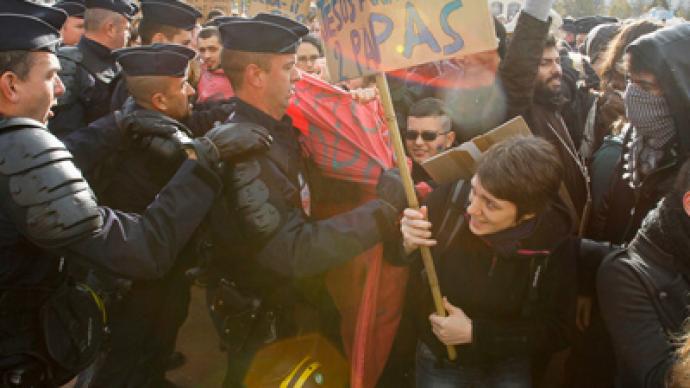 More than 100,000 people rallied across France on Saturday to protest a government bill that would grant marriage and adoption rights to same-sex couples. Police used tear gas against activists who tried to stage a counter-protest.
The tear gassing happened in the city of Toulouse, where several thousand people turned out – including many gay advocates.Around 200 would-be counter-protesters were detained in Lyon.Police told AFP that 70,000 people turned out to protest the bill in Paris – although event organizers put the figure at 200,000.Paris protesters marched to the Invalides monument – the final resting place of Napoleon Bonaparte. The French leader created the country's civil code, which states that marriage is a union between a man and a woman.The demonstrators held banners which read, "One child (equals) one father + one mother" and called the bill a "major and dangerous upheaval."
But counter-protesters were present in the French capital, too.Gay rights activist Alice Coffin held a sign that read, "Homophobes, we are not interested in your opinion, only the same rights as you," France 24 reported.She and a group of around 50 people threw confetti and rice – which are symbolic for their use at weddings – when the march passed near the Montparnasse train station."I think the government is firm on this law…but the fight is not over yet and it's important to be out here today," Coffin said.The rallies, which were organized by conservative Catholic groups, were called in response to the "Marriage and Adoption for all" bill which would legalize gay marriage and adoption for French citizens. It would also replace the entries in a child's registry book from "father"' and "mother" to "parent 1" and "parent 2."The bill is supported by French President Francois Hollande and the Socialist Party. Hollande vowed to enact the plan within a year of coming into office in May, but the bill has proven highly controversial since its creation.The country is currently divided on the issue of family rights for gay partners. According to a recent survey, most French citizens approve of gay marriage, although only around 50 per cent support adoption by homosexual couples.
You can share this story on social media: